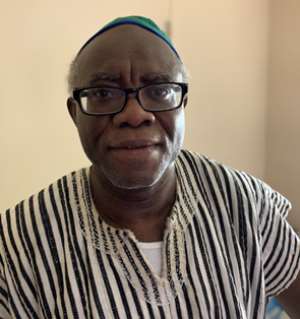 A couple of days after Governor-Elect of the State of Virginia, Glenn Youngkin, won the 2021 Gubernatorial Election in that historic State of the Union, a bulletin news story appeared in the Washington Examiner with the following headline: "Biden Has Not Called Virginia Gov.-Elect Glenn Youngkin After Democrats' Defeat" (11/5/21). I know perfectly well that calling on electoral victors across political party lines is a long-established tradition in most constitutional democracies across the globe. Robust and civilized democratic cultures such as ours right here in the United States of America staunchly maintains this tradition. Of course, I was also thinking about the very young but, nevertheless, robust constitutional democratic culture of Ghana, the country of birth of yours truly as well.
In the case of President Joseph R. Biden, Jr., there was the genuinely added difficulty of having twice campaigned for the Democratic Gubernatorial Candidate, Terry McAuliffe, who, we are informed, was campaigning to be nonconsecutively elected Governor of the State of Virginia for the second time around. I could just as well have Googled this up, but I was also wondering precisely why former Governor McAuliffe lost his reelection bid for Governor the very first time around. Or, perhaps, he never really did run again in the recent past. If he did or he had run for reelection and lost the same in the past, it would be all too logical for us to learn precisely what reasons or factors had apparently done him in, as it were. I am here, of course, talking about his gubernatorial track-record. I am quite certain that the latter factored into his latest highly spirited, albeit patently lackluster, attempt to regain his old job.
You see, when I last saw Mr. McAuliffe on the national political scene or platform, the man was the National Chairman of the Democratic Party. At any rate, reading that President Biden had not called that early to congratulate Governor-Elect Youngkin felt perfectly in keeping with established protocol, because it would have felt a bit too premature and perhaps even decidedly inappropriate. After all, it was all to be logically expected that both Messrs. Biden and McAuliffe would be going through a wistful grieving post-election loss process. So, there was absolutely nothing wrong or unusual with President Biden's not promptly reaching out to congratulate the newly elected Republican Governor of Virginia who, by the way, had not played fairly to the finish line. Mr. Youngkin had shamelessly and characteristically played up the proverbial "race card." But then, Candidate McAuliffe had also played the rabidly racist Trumpian bugbear in ways that trumped what he really ought to have been preaching on the electioneering campaign trail, namely, his development agenda for the people of the State of Virginia over the next four years.
At any rate, even as Deputy White House Press Secretary Karine Jean-Pierre told the White House Press Corps, President Biden would reach out and touch bases with Governor-Elect Youngkin at precisely the right time. But this delay in reaching out to the Republican Party's Gubernatorial Candidate was all to be expected, as the President has been engrossed in the messy battle of having his multitrillion national renewal and infrastructural reconstruction budgetary package passed by Congress, failure to opportunely get it approved of which is widely acknowledged to have played a significant role in Candidate McAuliffe's loss to Candidate Youngkin, regarded as the proverbial New-Kid-on-the-Block. Personally, I am convinced that Candidate McAuliffe inadvisably played himself scandalously hollow and decidedly up short, when the old and, in retrospect, jaded political horse decided to predicate his entire electioneering campaign agenda on a man who was not even running for any position in the State of Virginia and was still reeling from his epic loss of the 2020 Presidential Election to President Biden.
We are here, of course, referring to Mr. Donald John Trump. In short, Candidate McAuliffe was clearly a man without any politically and socioeconomically worthwhile or winsome agenda. It also did not help matters that an evidently overconfident Candidate McAuliffe would tell his political opponent and Virginian parents that they had absolutely no business telling schools and schoolteachers what to teach their children and wards. It was equivalent to committing early-morning suicide by jumping from one of the pylons of the Brooklyn Bridge or from the very top of the Empire State Building, that is, if you were a New York City resident. You see, like most American parents and guardians of public schoolchildren, the voting parents of Virginia were fully aware of this plain and unvarnished truth; they simply did not want an inadvisably cavalier and, in retrospect, passe or a has-been Candidate McAuliffe rudely telling them the stark and unvarnished inescapable truth.
You see, most American parents prefer to be deluded into believing that, in fact, they are the architects of the curricular contents of their children's education. In many quite remarkable respects, they have some input in what gets taught to their children, which may partly explain why the quality and general standard of the average American public school lags well behind academic standards in comparable advanced constitutional democracies, where professionally trained teachers are afforded the requisite wide berth to determine curricular content. You see, in politics, the rule-of-thumb is not to pretend to be far more intelligent than the voting public or your electors. A word to the wise….
*Visit my blog at: KwameOkoampaAhoofeJr
By Kwame Okoampa-Ahoofe, Jr., PhD
English Department, SUNY-Nassau
Garden City, New York
November 7, 2021
E-mail: [email protected]