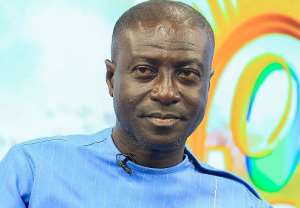 "An empty vessel makes the loudest sound, so they that have the least wit are the greatest babbles" – Plato
I must admit that nobody paid the fees of trained psychiatrists in Ghana. They passed through the fire to have their training and so nobody has the right to force them to cure anyone without a fee. I am aware of the Hippocratic Oath of Physicians but there is nowhere in the oath that compels physicians to cure people free of charge. It is true in other jurisdictions, some psychiatrists cure people with mental problems free of charge. These are philanthropists who just want to save mankind out of benevolence. Not here in Ghana. But what happens elsewhere can also happen in Ghana if we have physicians with kind hearts.
Forty one years (41) ago when I entered into the stormy waters of journalism, I never thought the profession will be so muddied as it is now. In fact, if I had known, I would have chosen another profession. No wonder the sages say had I known is always at last. Sometimes when I listen and hear these so-called journalists, my heart bleeds. Has it all too soon come to this? Today, the trademark of journalism is not constructive criticism but sheer insults, intemperate and uncouth languages.
General Kutu Acheampong did not have it easy during our salad years as journalists because we were doing constructive journalism. Even though the media landscape was not as polarized as it is today, we were able to carry our messages to the powers that be with unregistered pamphlets and flyers. The most difficult time of the profession was when the PNDC came to power and reinforced the Criminal Libel Law and brought in the Culture of Silence. Even with the Commandoes, PDCs and CDRs lurking behind us day by day we were able to carry our messages to the good people of Ghana by distributing pamphlets deposited on streets when everybody was asleep. It was a duty for God and mankind. Risk was not in our dictionaries as we bombarded the dictators with thought-provoking articles. When the kitchen became too hot for Rawlings and his murderous junta, journalists like Kwaku Baaku, Tommy Thompson and Haruna Atta found themselves in jail for publishing what the junta called libelous articles. Yours sincerely did not sojourn in Nigeria for nothing. It was a run for your dear life.
Even when ex-president Kufuor came to power with Nana Akufo-Addo as the Minister of Justice and Attorney General who helped in no small way to repeal the Criminal Libel law, we measured our languages despite our newfound freedom. Our main aim was to make journalism enticing to the younger generation. When the late Asemfoforo, a staunch serial caller of the NDC looked President Kufuor in his face and cursed him at Sunyani during one of the Peoples' Assembly sittings and supporters of the NPP rushed on him, Mr. Kufuor admonished the angry youth to leave him alone because that was some of the prices we have to pay for repealing the Criminal Libel Law. He admonished Ghanaian journalists to carry the cross as we moved on. Today the cross has become too heavy to carry because of the tomfoolery of a few half-baked journalists.
Anytime I listen to journalists like Randy Abbey, Israel Laryeh, Raymond Acquah, Omanhene Kwabena Asante, Sefa Kayi, Paul Adom Okyere and the other fine and refined presenters on air, my arching heart is soothed.
They speak with decorum and make journalism so honorable and great. They are not the insulting type and they are not biased. Their analysis of topical issues are always matured and perfect. They are simply well trained and cultured.
Anytime I tune in my TV set or radio and hear the voices of Captain Smart and his other Kumasi ' follow follow' quacks and charlatans, my heart bleeds for them because they do not know that they are gradually cultivating madness in their stomachs. Captain Smart thinks he is smart but in actual fact he is either insane or a jester. He thinks all Ghanaians areas daft-minded as he is. Sometimes he speaks as if he is the only person with the wisdom to analyze issues. He picks up a topic and in his attempt to deal with the topic he makes a mess of himself. The most worrisome of his untoward behavior is that he has no respect for anybody in this country, not even the President and the great Asantehene. When it comes to issues concerning the economy he miserably exposes his ignorance but because of politics, those who are supposed to know better commend him for misinforming the populace and fooling himself.
The mistake we do in this country is that we see everyone who is well dressed as a sane person. We fail to understand that not only persons who dress shabbily and behave abnormally are mad. That is why in other jurisdictions, psychiatrists are hired to check the mental situation of presidents periodically. If you carefully watch and listen to this Captain Smart guy, you will not need a psychiatrist to tell you that something is wrong with the guy and he desperately needs the services of a psychiatrist. No wonder he is always dismissed as he hops from one radio station to the other because no responsible employer will entertain the deviant behaviour of this guy who knows nothing but shouting and acting like a monkey which is used to sell medicine at Kumasi Kejetia.
The world did not know that Adolf Hitler was crazy until he sent millions of people to death when he started the Second World War. Similarly when the late Iddi Amin seized power in Uganda, little did the people know that the man had a mental problem. Before they came to their senses, the Butcher of Uganda had killed thousands of Ugandans. It also happened in the Central Africa Republic when Bokassa took overpower. This particular madman squandered the wealth of the poor nation and finally crowned himself the Emperor and the master of all that he surveyed.
The other time when a woman tricked Ghanaians that she was pregnant and that she was kidnapped, this mentally deranged Captain Smart was seen on television swaggering and boasting that indeed he knew that woman personally and that the woman was pregnant and that the Western Regional Minister who said medical doctors proved that the woman feigned her pregnancy acted like a politician from the northern regions. That was when I started questioning his state of mind. Today the woman has confirmed that she was not pregnant so what is Captain Smart telling politicians from the north which included, ex-president Mahama, Albgan Bagbin, Haruna Iddrisu, Dr. Bawumia, Muntaka Mubarak and the rest.? That is how mad men talk. They talk before thinking. Recently he foolishly said he doesn't support a Coup de'etat but he was calling for an insurrection. He did not know there is no difference between a Coup de'tat, uprising, revolt or insurrection. The guy's knowledge in English Language is pretty low indeed. And he calls himself a journalist! As for me if any brash, rash or trash hireling like this Captain Smart attacks my tribe, I will go down the gutter with such an irresponsible person and besmear ourselves with mud. And with that mission accomplished, I will fly up there into the firmament, where angels dwell. After all, who am I Angel Gabriel for? I want to serve notice and notice is hereby served that if Captain Smart is mad he should take his madness to places where mad men and women roam the streets because there is no mental hospital there like the type we have at Pantang and Asylum. In the north, if even we are fools and senseless as Captain Smart insinuated, respect to our chiefs and elders is our proud hallmark.
Economic challenges facing Ghana today did not start five years ago when Nana Akufo-Addo and his administration took overpower. Since independence the country has been trying to develop all sectors of the country. Governments that have come and gone including even military regimes did their part. The difference between previous regimes and that of the current regime is that this time around, the media landscape has changed. The man at the helm of affairs of the nation has opened the floodgate for every Ghanaian to comment on whatever is happening in the country without fear. Meanwhile he refuses to be pushed around by his detractors to take rush and hasty decisions which will not augur well for the future generation. In fact, the president in power today has no moral right to attack persons who criticize his government destructively because it was he who led the crusade to repeal the Criminal Libel Law. He has fought for freedom of speech for decades and so he dare not talk even if he is unduly insulted like the way some hotheads, scatterbrains and wayward journalists and politicians are doing. If you look at the number of FM and TV stations operating today and compare them to the days gone by, you will realize that the number has quadrupled. To add insult to injury mushroom journalism schools are sprouting everywhere, thereby, producing substandard journalists who are competing to seek for recognition. And to succeed in their bid to be notorious in order to attract gullible listeners, they follow the Captain Smart journalistic peccadillos. Somebody should draw Captain Smart's attention to this piece and advise him to put up or shut up, else I will spit fire. And I have enough vocabulary in my arsenal to do the job. Akoa wei paa!!!
No cigar today because anytime I become extremely angry I begin to experience unusual heart throbs. Just forgive me for tomorrow is another day.
By Eric Bawah