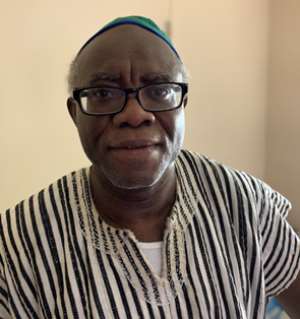 Maybe rather than call on the members of the National House of Chiefs to convene a meeting between President Addo Dankwa Akufo-Addo and his immediate and accidental predecessor, namely, Mr. John "European Airbus Payola" Dramani Mahama, in a bid to resolving the raging parliamentary impasse which, by the way, old and jaded Akufo-Addo detractors like Mr. Kwame Pianim may actually be relishing, the National House of Chiefs may actually need to call the longtime abortive New Patriotic Party (NPP) Presidential Candidate and warn Mr. Pianim to cease and desist from his perennial and constant harassment of unarguably Ghana's best Fourth-Republican Leader (See "Call Meeting Between Akufo-Addo and Mahama – Pianim to House of Chiefs" Ghanaweb.com 12/4/21).
This is rather at once weird and absurd because technically and practically speaking, even as Mr. Samuel Ofosu-Ampofo, the criminally indicted National Chairman of Ghana's main opposition political party, the National Democratic Congress, could readily have informed Mr. Pianim, former President Mahama is not the Leader of the NDC; neither is he the Minority Leader in Parliament. To be certain, such importunate demand is apt to both scandalize and insult the intelligence of the NDC's Parliamentary Minority, not to say or imply that they have much intelligence to spare, by the way, because it cavalierly presumes that legislative veterans like Speaker Alban Sumana Kingsford Bagbin, who has already constituted a Parliamentary Advisory Board for such purpose, and Parliamentary Minority Leader, Haruna "The Plagiarist" Iddrisu, do not know the location of their right-hand from their left, when it comes to managing the affairs of the second most powerful arm of the three branches of our democratic system of governance.
Besides, Nana Akufo-Addo has more than amply demonstrated that he is easily the most visionary, competent and capable Fourth-Republican President, bar none! Plus, if, indeed, the Little Man from Kyebi with the Biggest Brain of any Fourth-Republican Ghanaian Leader really needed his nation-wrecking and grossly incompetent immediate predecessor to facilitate the resolution of the raging parliamentary impasse, he definitely would not need Mr. Pianim, a sometime Provisional National Defense Council (PNDC) appointee and operative, to help him make such a judgment call. Even more significant must be recalled what New Patriotic Party stalwarts like Messrs. Paul A. Afoko and Kwabena A. Agyepong once or twice, after the former Attorney-General and Minister of Justice lost one of his three attempts at the Presidency, told Nana Akufo-Addo, to the effect that the latter had absolutely no right to publicly pass himself off as Leader of the New Patriotic Party.
The former Jeremiah "Jerry" John Rawlings-appointed Executive-Director of the Ghana Cocoa-Marketing Board, presently renamed COCOBOD, may very well have forgotten this, so maybe Mr. Pianim ought to be reminded of the fact that Nana Akufo-Addo had been rudely called to order, by being told, shortly after he lost the 2012 Presidential Election, that he ceased to be the Leader of the then main opposition New Patriotic Party, according to the party's constitution, as soon as lost the latter Presidential Election. So, now, how come that Kwame Gonja is being held up by Mr. Pianim as the de facto and de jure Leader of the National Democratic Congress? As Americans are wont to say, "Whatever goes around also comes around." In other words, why is Mr. Pianim insistent on making the grossly incompetent Bole-Bamboi native, from the Akufo-Addo-created Savannah Region, an exception to a clearly defined rule?
Did Mr. Pianim ever ask an extant President John "Corruption is from Adam and Eve" Agyekum-Kufuor to reach out to the then-former President Rawlings, when the Bagbin-led NDC Parliamentary Minority made parliamentary boycotts their main and sole political raison d'étre? So, why is Mr. Pianim now calling on Nana Akufo-Addo to do precisely what he never called on "homeboy" Kofi Diawuo Kufuor to do on the latter's watch? I smell the proverbial rat here; and, trust me, Dear Reader, it is not a very pleasant smell, in spite of all the mouth-sucking noises being made by avid rate eaters. You know, where I come from in Ghana, the prime veal is dog meat, which we probably, ironically, share with Kwame Gionja's people, by the way.
*Visit my blog at: KwameOkoampaAhoofeJr
By Kwame Okoampa-Ahoofe, Jr., PhD
English Department, SUNY-Nassau
Garden City, New York
December 5, 2021
E-mail: [email protected]