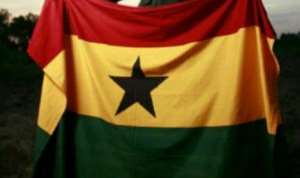 The prestigious Ghana flag, a country with a difference.
Many are struggling to overcome anxiety disorder, fear, and uncertainty, due to economic hardships, crime, and violence, that have taken over our society.
The problem is that most people find it hard to overcome their fears because it's part of who they are. That's a mistake. You can give yourself some comfort by finding the right solution.
Politics in Ghana have failed humanity and in my opinion, I see politics as something the common Ghanaians shouldn't depend on for a better life.
What many Ghanaians don't know is that Ghanaians living in the Diaspora are also affected by the unstable political events and economic hardships in Ghana, despite a large amount of foreign exchange remitted to the country monthly and yearly.
Customs duties have been raised over 200% and many pay over 2000 Euros equivalency in Ghana for a vehicle bought at 4000 Euros. However, we still love our country, therefore, we will not allow these problems to take away our happiness.
At times sadness, loneliness, and depression make us feel miserable and scared because we don't know what tomorrow may bring. Many can't even speak about what is going wrong in Ghana because they are scared to do that.
Many times, it may be differences of opinions, misunderstandings, and the consequences of criticism but at times, it turns out to be good for criticizing.
Within a few days, we shall be witnessing the new year 2022. Are you going to carry your problems along with you? Why do we often allow our problems to take their toll on us?
If the blind can play the piano, someone without hands, can open the chapters of a book to read with his toes or tongue, then why do you have to grumble when you are physically strong?
The purpose of this article is to encourage, not to discourage. There are many opportunities there for you. Let God be your guide to choose wisely and let your hopes and dreams be a reality in the year 2022.