Navrongo Municipality has awarded Mr. Niagia Awe, a 49-year-old husband of 3 wives and father of 12 children, native of Pindaa community in the Kassena Nankana Municipality of the Upper East Region the 2021 overall best farmer.
Some 51 nominees were selected for the 2021 award programmes in the Municipality.
Addressing the congregation at the farmer's day celebration which took place at the Kologo community, the Municipal Chief Executive (MCE) Adongo Joseph extended appreciation to President Akufo-Addo for putting more attention on agriculture.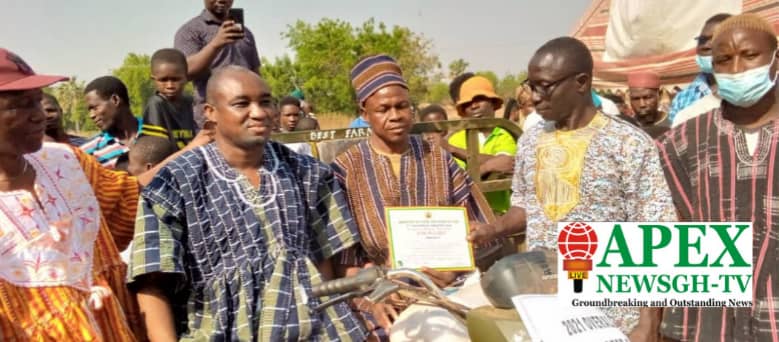 Adongo Joseph Navrongo MCE handing over certificate to the best farmer
"His excellency Nana Akufo-Addo missed no words in assessing his vision in which agriculture is taking a center stage in Ghana's economic development agenda by transforming and modernizing agriculture through an all-inclusive plan to enhance food security, improve farm productivity, strengthening linkages with industry and thereby create jobs, improve rural livelihood and work for all Ghanaians.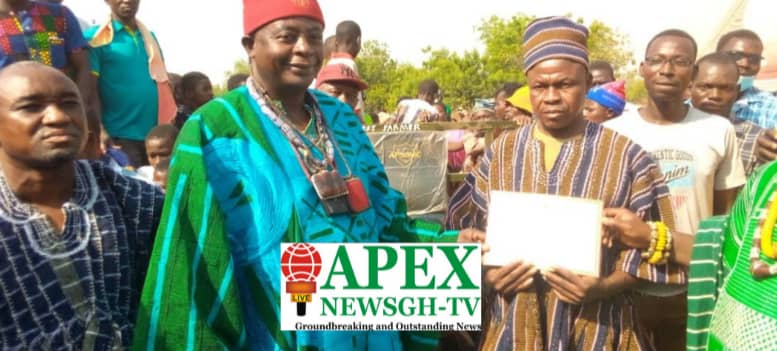 Navro Pio in a picture pose with the overall farmer
"As a representative of the President in this Municipality, I am happy to report that the Kassena Nankana Municipality has gotten its first share of the huge investment by this government in the agricultural sector. I must say that, through modernizing agriculture in Ghana programme, our municipality received 15 motorbikes for extension service delivery this year," he stated.
He believes that will help improve the extension service in the municipality.
"Under the government's flagship programme Planting for Food and Jobs, a total of 89,600 mini bags of NPK fertilizer as well as 6,100 mini bags of Urea fertilizer were distributed to a total number of 5, 639 farmers this year. Under this same programme, a total of 9,400 organic fertilizer and 5,000 litre of liquid organic fertilizer were received by the municipality this year and distributed to farmers," he intimated.
Mr. Adongo said, there has been a significant increase in productivity and hence improved livelihood. He added that such a milestone wouldn't have been achieved without the Planting for Food and Jobs programme.
However, he acknowledged the untimely arrival of inputs, sale of inputs above the approved price and smuggling of inputs as a challenge.
He sends a word of caution to those engaging in such activity to desist from it.
Paramount Chief of Navrongo Traditional Council in the Kasena-Nankana Municipal Assembly of the Upper East Region of Ghana, Pe Asagepare Balinia Adda II and the chief of the host community Naba Clifford Abagna Asobayire and some other personalities were all present at the event.