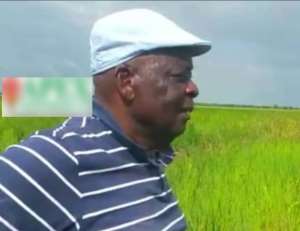 As Ghana celebrates its 37th edition of National Farmers Day, this portal has been focusing its attention on Ghana's former Members of Parliament who out of Parliament, has decided to venture into farming as their lifetime business.
One amongst these MPs turned full-time farmers, is Mr Mark Owen Woyongo. He was also the former Member of Parliament for the Navrongo Central constituency.
Today, Mr. Mark Owen Woyongo is a full-time farmer. This year 2021, he was able to farm 500 acres of rice. But, the question begging for answers is, how is he doing the magic? What is the challenge facing Ghanaian commercial farmers? Is the Planting for Food and Jobs (PFJ) beneficial to commercial farmers? What is Mr. Mark Owen Woyongo general view about the farmer's Day celebration?
Below are his engagement and responses to Ngamegbulam Chidozie Stephen on the National Farmer's Day celebration:
Every country should celebrate farmers because agriculture is very important in the economic development of every country and it is good that government continues to celebrate farmer's day.
But I think that a lot needs to be done in order to make farmers happy.
For example, this year we struggled to get a few bags of fertilizer, we wanted so much fertilizer because this year am doing about 500 acres of rice and wanted about 500 bags of fertilizer for our farm. But we only got about 250 bags and that's half of what we wanted and that's even discouraging farmers, especially we the commercial farmers.
The unfortunate thing is that the Planting for Food and Jobs (PFJ) focuses on the small-scale farmers, not much attention is paid to the commercial farmers, which I think is very unfortunate because we produced the bulk of the food. When they are giving the fertilizers, they only considered those who will need 5 or 10 bags of fertilizers, they don't make provision for those of us who need about 500 bags of fertilizer and even then, not all the small-scale farmers will be able to get the fertilizers.
It is good we are focusing on agriculture but, I think is important we pay more attention to the provision of the inputs to farmers.
They should not also ignore the commercial farmers, because you can imagine the quantity of rice I can produce, you will need about 100 small-scale farmers before they will be able to produce the same.
So, if we have to be safe sufficient in food production, attention has to be given to the commercial farmers to encourage them to produce more. Once you are encouraging the small-scale farmer, also encourage the commercial farmer, because together we produce so much food to make the country safe sufficient in food production. I think that should the approach.
Unfortunately, the PFJ doesn't pay much attention to value addition. You produced the rice, you should be able to mill the rice, ready for the market but here is the case, there are no mills. The mills are very limited and they determine how much they pay you for your rice but, if we have several mills there will be competition and they will offer better prices for our rice because it will be competitive. But here is the case, both of the farmers in our enclave where we farm, all send their rice to Avnash Rice mills which is the biggest mill and they determine how they should pay you for a bag of rice and it will even depend on the moisture content of your rice.
So, a lot needs to be done to bring about competition into agriculture, is not a matter of just producing food, we must add value to it. Something needs to be done.
13 farms got burnt because there are not enough combine harvesters in the system, 13 farms can you imagine the quantity of rice that got burnt? A lot of rice, a lot of money have gone to waste. So, I think we need to look at it holistically this Planting for Food and Jobs should be look at production, value addition, supply of input and the rest of them.
But, if we do it half hazardly, we will produce the food but it will go waste. Because along the line some of it will burn because there are no combined harvesters to harvest, we will produce the food but those who will add value will continue to exploit the producer. So, there is a lot to be done.
"Government should bring stakeholders together and find a way out of this problem. It looks like the Ministry of Agriculture is just taking the decision without any reference to the producers.