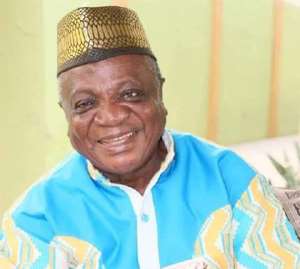 In the barely five years that he has been at the helm of our nation's affairs, President Addo Dankwa Akufo-Addo has had the well-deserved honor and privilege of celebrating the distinguished and illustrious life of more artistic, diplomatic, cultural and political giants than any other Fourth Republican Ghanaian President. So, it came to me as perfectly natural to learn that the legendary Giant Dwarf and proverbial Little Man from Kyebi would also be jointly organizing and hosting the funeral and burial ceremonies of the recently transitioned Daasebre Nana Kwame Ampadu, I, the nationally acclaimed King of Storytelling Highlife, with the family of the deceased composer of such classic Highlife perennials as "Aku Sika," "Owuo Nnye," "Ebi Te Yie" and "Obra" (See "Akufo-Addo to Honor Late Highlife Musician Nana Kwame Ampadu with State Burial" Modernghana.com 11/11/21).
As of this writing, the official date for Nana Ampadu's funeral and burial had yet to be decided by the Ampadu Family and Clan and their associated allied families and relatives. Among the great and distinguished globally recognized and respected Ghanaian citizens that Nana Akufo-Addo has had the rare privilege of laying to rest are Mr. Kofi (Atta) Annan, the legendary Nobel Peace Prize Laureate and the first indigenous African citizen to be elected Secretary-General of the United Nations Organization (UN); Prof. J H Kwabena Nketia, foremost Continental African Musicologist, Social and Cultural Anthropologist, Linguist and Scholar of his discipline and generation; Chairman Jeremiah "Jerry" John Rawlings, former Ghana Airforce Flight-Lieutenant and the longest-reigning postcolonial Ghanaian military ruler and democratically elected President; and shortly before the latter, Prof. (John) Atukwei Okai, widely known among the members of his generation as John Okai and widely regarded as the originator of neo-oral or literate performance poetry and a human and civil rights activist and author of children's literature.
All these veritable National Heroes and Human Institutions are buried at a specially earmarked section of the New Military Cemetery in the Teshie-Nungua suburb of Ghana's capital city of Accra or the Greater-Accra Metropolis. In a quite practical sense, as well, President Akufo-Addo could be indisputably credited with being the first postcolonial Ghanaian leader to have pragmatized the ideological and cultural concept of the Pantheon of National Heroes in Ghana. On the other hand, I could not help from snorting at the very comical and grotesque fact that John "Judas Iscariot" Dramani Mahama would be left holding the blood-spattered casket of the man whose faulty magnanimity in handpicking Kwame Gonja as his Presidential Running-Mate, against the grain and, in retrospect, the well-informed judgment of the acclaimed Founding-Father of the National Democratic Congress (NDC), the country's main opposition political party, as of this writing, would catastrophically culminate in what might be aptly characterized as the demonic death wish of my good, old Uncle John Evans Tarkwa-Atta Mills.
That no other major politician or national leader has since 2012, including the late Chairman Jerry John Rawlings, been interred beside the first Presidential Incumbent to expire in office at the so-called Geese Park or Asomdwoe Park, must continue to serve as an irredeemable and morally indelible indictment of the man who, nearly a decade on, has yet to look Ghanaians in the eye and officially let on to the Ghanaian citizenry at large, precisely what killed the then long-retired Tax-Law Professor of the University of Ghana's Faculty or Department of Law or Legal Studies. That like William Shakespeare's Macbeth, former President John "European Airbus Payola" Dramani Mahama continues to desperately thrash about in a strategic bid to being returned to the Presidency, after having been decisively rejected by nearly Two-Million Ghanaian voters, inescapably reflects the spiritual emptiness that seems to be controlling the psyche and thinking or thought of the Bole-Bamboi, West-Gonja, native these days.
Needless to say, Ghanaians have a bounden obligation to be as hell-bent on preventing Mr. John "Akonfem-SADA" Dramani Mahama from taking them back to the Dark Ages of Dumsor and Cholera, even as this clinically theft-prone megalomaniac is envisaged to be eerily hell-bent on doing just that. At any rate, the decision by Nana Akufo-Addo to afford Daasebre Nana Kwame Ampadu, I, a State Burial, per the dying wish of the latter personality himself, is pretty much in keeping with established protocol. You see, the King of Storytelling Highlife had diligently risen well above the proverbial pack of the ordinary Ghanaian citizenry to be comfortably and fittingly reckoned among the best and the brightest of his kind and generation. The distinguished and preeminent, that is. In polite Akan parlance, having learned to wash his hands thoroughly clean even as a child, the Akyem-Kukurantumi and Okwawu-'Bo native had prequalified himself for a choice seat at the dinner-table with gray-bearded adults.
Daasebre Nana Kwame Ampadu was a respectable adult because he had long learned how to thoroughly wash his hands, even as the overwhelming majority of his peers and playmates were still being toilet trained. I also recently watched a videoclip titled "Untold Stories of Nana Ampadu by His Children" on Kofi-TV that I intend to discuss with our readers in due course or in the very next segment of this tribute series, whichever comes first.
*Visit my blog at: KwameOkoampaAhoofeJr
By Kwame Okoampa-Ahoofe, Jr., PhD
English Department, SUNY-Nassau
Garden City, New York
November 11, 2021
E-mail: [email protected]