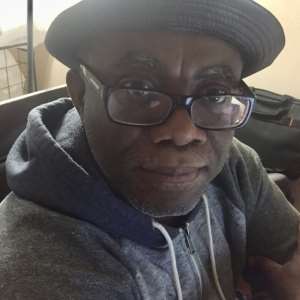 Very likely, Mr. Osman Ayariga is the relative of the infamous Ayariga Boys, namely, Mr. Mahama Ayariga, the brash and garrulous well-known political pet poodle of former President John "Akonfem-SADA" Dramani Mahama and former Mahama cabinet appointee and, presently, the National Democratic Congress' Member of Parliament for Bawku-Central, in the Upper-East Region; as well, Osman Ayariga, who is described as a former President of the National Union of Ghana Students (NUGS), could also very well be the relative of Mr. Hassan Ayariga, the chucklehead elder brother of Mahama Ayariga, who owns a rag-tag faux-socialist political party which broke away from another relatively bigger splinter Nkrumah-leaning political party, after Hassan Ayariga had been brought up on charges of either behavioral and/or managerial impropriety, I don't quite remember which. At any rate, for his part, Mahama Ayariga, it may be vividly recalled, is the pathologically kleptocratic politician who allegedly imported several luxurious private cars into the country and fraudulently under-invoiced them or, better yet, fraudulently undervalued their real/true going market prices so that he could avoid paying the correct amount of taxes on the aforesaid luxurious Mercedes SUVs.
Indeed, as I vividly recall, the vehicles concerned were top-of-the-line Mercedes Benz models. What we want to establish here, first and foremost, that is, before we respond to Osman Ayariga's charge against President Addo Dankwa Akufo-Addo, regarding what the accuser-critic terms as profligate "living like an Arabian King," is the forensically established fact that the Ayariga Boys absolutely lack the moral authority and credibility to level such a scandalous charge against Fourth-Republican Ghana's putatively most visionary, progressive and successful leader (See "Presidential Jet Brouhaha: Akufo-Addo Is Living Like an Arabian King – Osman Ayariga" Modernghana.com 10/3//21).
You see, the decision by the Akufo-Addo Administration to purchase a New Presidential Jet must be measured against the monetary and political value of the much-maligned foreign travels of Ghana's former Attorney-General and Minister of Justice and, before the assumption of the latter portfolio, Foreign Minister and Minister of West African Integration, compared to those of Nana Akufo-Addo's pathologically kleptocratic immediate predecessor, namely, former President John "European Airbus Payola" Dramani Mahama. In other words, the most relevant question to be answered by any critic of the President is as follows: Compared to which other of his predecessors or previous Ghanaian leaders, could Nana Akufo-Addo's travel expenditures be compared to that of an Arabian King? We need to also quickly and pertinently factor in the value of economic assistance and capital investments and other socioeconomic intangibles that Nana Akufo-Addo's foreign travels and other international diplomatic dealings have accrued to the collective benefit of the Ghanaian taxpayer and the citizenry at large.
You see, Mr. Osman Ayariga, you cannot simply make up charges and accusations against our current President without providing any forensically provable basis of cedi-for-cedi comparison and assume that you can easily get away with such propagandistic mendacity. You see, to be reckoned to be truthful and relevant, all your charges must, perforce, be staunchly backed up by the most relevant and forensically provable data. Otherwise, such charges may only end up being deemed to be gratuitous and thoroughly bereft of any significant meaning or socioeconomic relevance. Now, the second most logical question becomes: Precisely which Arabian King is Mr. Osman Ayariga comparing the perceived profligacy of Nana Addo Dankwa Akufo-Addo to? To be certain, I sense a jaundiced element of inferiority complex here, which is that, somehow, even hardworking, visionary and progressive Ghanaian leaders like our incumbent President have absolutely no right to live comfortably commensurate with the level and value of their work and/or labor input and out. No such cynical prescription, especially when it comes from such do-nothing operatives of our faux-socialist National Democratic Congress can be taken seriously.
Just the other day, for example, I chanced across one of the freeloading NDC propagandists at the local Citibank near the cooperative residential complex where I live. They are almost always from Agbozume or somewhere in the latter vicinity of the Volta Region. And they almost invariably migrate to other parts of Ghana to voraciously cannibalize the political machinery and activities of the National Democratic Congress like some Afropean colonial officials. And, by and large, they are, nearly each and every one of them, Afropean colonial officials. Now, during a heated argument, this Anlo-Ewe SOB had the temerity to thump his scarcely manly chest at me and claim that the democratically and auspiciously ousted President John "Akonfem-SADA" Dramani Mahama had effectively and definitively resolved the scourge of Dumsor before he was seismically booted out of Jubilee House by a far more mature and competent Candidate Akufo-Addo.
So, I asked Mr. Agbozume the following question: Why then did President Mahama summarily fire Dr. Kwabena Donkor, the National Democratic Congress' Member of Parliament for the Pru-East Constituency, in the Bono-East Region, if memory serves yours truly accurately? As I vividly recall, it was Dr. Kwabena Donkor who jumped onto the august floor of Ghana's Parliament and pontifically asserted that he could definitively solve the country's energy problems within the temporal space of one year. And then a new Power or Energy Department was specially established for him by Kwame Gonja for the purpose. And then he royally failed to follow through with his promise. Mr. Agbozume stood sheepishly before me and mumbled some gibberish that I could scarcely make a head or tail of. Then, like the professional oafs that the overwhelming majority of these so-called NDC Communicators invariably appear to be, Mr. Agbozume insisted that President Mahama had effectively solved the scourge of Dumsor just immediately prior to him being apocalyptically swept out of Jubilee House.
So, logically, I followed the latter up with my next question: You don't fire a minister who has so successfully solved the most seemingly intractable problem at hand, such as Dr. Kwabena Donkor was summarily fired and made to apologize to Boss Kwame Gonja and the nation at large, or do you? Well, by the time I was done posing the latter question, Mr. Agbozume had literally vanished into the proverbial thin air. That is how one meaningfully and effectively silences these freeloading charlatans.
*Visit my blog at: KwameOkoampaAhoofeJr
By Kwame Okoampa-Ahoofe, Jr., PhD
English Department, SUNY-Nassau
Garden City, New York
November 7, 2021
E-mail: [email protected]