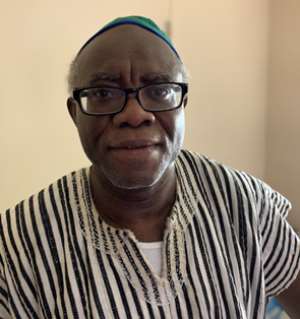 She is too politically close to the epicenter of the January 6, 2021, criminal attempt by the supporters and sympathizers of the democratically and legitimately ousted President Donald John Trump, so Dr. Condoleezza Rice, the US Secretary-of-State in the government of President George W. Bush, can be taken at best with the proverbial pinch of salt. We are here, of course, talking about her statement on ABC-Television's "The View" talk-show that it is about time that the January 6 Congressional Investigations Committee wrapped up its activities, so that the country could move on to other matters of more pressing concern or moment (See "Condoleezza Rice Says that While Jan. 6 Riot was 'Wrong,' It's Time to Move On" USA Today 10/21/21).
It may, indeed, be time to move on; but the stark fact also remains that we cannot really move on as a nation, while the forces hell-bent on destabilizing our country are still hard at work and appear to be intransigently determined to return the clinical megalomaniac who is dead-set on returning the United States to the franchise-bereft British colonial era to the White House. Dr. Rice is a Political Science Professor at Stanford University, California, one of the foremost global academies of its kind, so she must pretty much fully appreciate the dire implications of what she is talking about, since she is also highly regarded as an expert on Russian Politics and International Affairs.
On the "Russian Politics" angle, I am, of course, alluding to the apparent steely determination of the Trumpian Wing of the US Republican Party to take the world's greatest Superpower on a governance style and/or culture that is strikingly akin to what presently prevails in equally powerful mega-nations like Russia and China and, perhaps, the People's Democratic Republic of Korea – DPRK – more popularly known as North Korea as well. We know the preceding for a fact because not very long ago, shortly after meeting and interacting with China's President Xi Jinping, Mr. Trump was widely reported to have said that he envisaged in himself a leadership of a kind that strikingly resembled that of Beijing's Chief Resident. The former President has also been well known to greatly admire Russia's President Vladimir Putin, whose national interests and, perhaps, personal interests as well, Mr. Trump has been publicly alleged to have staunchly and studiously promoted right here in the United States.
Mr. Trump has also been much remarked about for allegedly being chummy with North Korea's President Kim Jung-un. Whatever truth or verity may inhere in these allegations scarcely matters anyhow. What seems to really matter here is that as a nation, we need to know precisely the chain of events that culminated in the January 6, 2021 Uprising on Capitol Hill, that is, the globally celebrated architectural landmark that houses the two chambers of the United States' Congress or the Legislative arm of the United States' Government. Anyway, during her appearance on "The View" television talk-show, Dr. Rice maintained that the full details about the architects and/or culprits behind the Darwinian Takeover of Capitol Hill shall eventually be known. The problem here, however, is that Dr. Rice gave no specific indication as to how and when.
The "how' and "when" factors are very important because the Congressional attempt to get to the very bottom of what has been widely characterized by the mainstream media as the Trumpian Coup Attempt or Coup D'état cannot be expected to rage or go on forever. In less than one year, there will occur what is commonly known as the Mid-Term Elections, whereby a quite remarkable percentage of Congressional Representatives, both from the Senate and the House-of-Representatives, will be up for reelection. We are told by the media and some political analysts and pundits that this electoral season will, primarily, be a litmus test for the government in power. In this instance, that means the Joseph Robinette Biden-led government of the US Democratic Party will be subjected to the electoral chopping block. Long-established tradition dictates that it is the Congressional Representatives of the Democratic Party that will be processed or literally ground into mincemeat.
The government in power, we are also told by the pundits, invariably suffers the greater number of casualties. It is a kind of proforma power balancing. What gives many of us patriotic American citizens, especially those of us classified as "Ethnic Minorities," the jitters is the fact that a crushingly defeated former President Trump is daily reported to be steadily packing up strength and becoming even more popular than ever before. Which means that this half-German Bulldog could very well be catapulted back into the White House to resume his rabidly Anti-African and ethnic and racial minority activities and the relentless promotion of White-Supremacist Propaganda and, perhaps, even bring the world's most powerful democracy to the brink of civil strife, if not an all-out full-scale war. I am not quite certain that Dr. Rice factored the eerie possibility of a Trumpian Redux into her otherwise quite reasonable admonishment for Congress to switch gears and more critically focus on the socioeconomic development agenda of our nation.
*Visit my blog at: KwameOkoampaAhoofeJr
By Kwame Okoampa-Ahoofe, Jr., PhD
English Department, SUNY-Nassau
Garden City, New York
November 6, 2021
E-mail: [email protected]