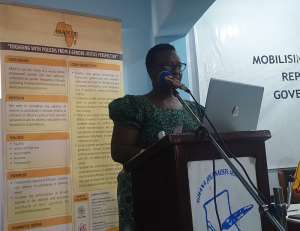 The Director of Odekro, Kinna Likimani has called on government as a matter of urgency pass the Affirmative Action Bill into Law.
According to her, the passage of the Bill will enable more women to take up political roles and be included in decision-making to improve the socio-economic growth of the country.
"They must pass the Bill, It is not any new thing to ghana, we have done affirmative action in political representation under Kwame Nkrumah. This is not about what other countries do but rather what Ghana itself started out doing, the only way we can address parity issues and lack of representation is through legislation because the system of patriarchy put power in men and is the only way we address this is by affirmative action.
"The sad thing is that Ghana started it and we stop, Senegal our own sister west Africa country have an affirmative action bill and that how come they got more women into their legislation assemblies, Rwanda is doing it but Ghana continue to fall behind on a lot of things that we need to do to move this country forward and one of those issues is the low level of representation of women in decision making in our assemblies at the local level. It is now a crisis. We are not going to get to where we need to be as a country", she explained.
Madam Kinna Likimani made this observation at a press conference on Mobilising For Women's Increased Representation in Local Government Elections 2023 in Accra organized by ABANTU For Development and African Women's Development Fund.

According to her, decision-making must include women and youths, not the other way around. " The power can not be vetted in one gender because you can see everything. Decisions made must be done by both genders."
She argued that decision-making by Ghanaian men has affected the socio-economic development of the country due to the corruption by Ghanaian men
"A lot of the issues women are concerned about affecting our lives, women are concerned about children education, health, and employment of the youth. Because when the children are unemployed it affects the life and health of the mother. If we have a political system where most of the people making decisions and policies are men and we are still not getting the country that we need to get, we need to get women involved," she posited.
She indicated that women not adequately represented at local government is itself corruption. "Not being given the opportunity to women to part take in decision making is corruption because if our Constitution which is a document we must aspire to lay the vision of the country we want to have, we have to get everyone involved and if we are not meeting our Constitutional requirement is a corruption".
She urged the media to use their platforms to advocate for women inclusion in the decision-making at the local level.