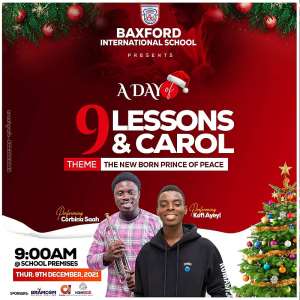 As part of the school's yearly programme, management planned of bringing such a programme this year to bring its community together to remember the Birth of Jesus Christ.
Talking to the School Management, Madam Ramla Smith- Yawson, The Proprietress said, the programme is the 1st of its kind after the school was inaugurated a couple of decades ago.
"I want to use this opportunity to unite my school community as we all remember the Birth of Jesus Christ in this festive season," she stated.
She added that the theme for this year's Carol Day Service is dubbed, "The New Born Prince Of Peace."
The programme will see two young talented Spirit-driven gospel industry players Corbina Saah and Kofi Ayeyi respectively perform to the kids and the entire school community. Although, there is a slated programme the kids are going to have in the course of the Carol Service these industry players will just come to spice everything up.
It's also meant to award the most promising student of the year, best student of the year and some deserving students who have put the name of the school on high on the global market through external examinations.
"It's our fervent prayer that the Almighty God will see us through as the year unfolds for another academic year," she concluded.