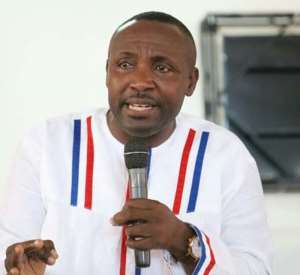 NPP General Secretary John Boadu
General Secretary of the New Patriotic Party (NPP), John Boadu has claimed that the minority in parliament deliberately rejected the 2022 budget statement to politically embarrass the ruling government.
Last Friday all 137 Members of Parliament on the ticket of the NDC voted against the approval of the budget after the majority had staged a walkout.
Addressing a press conference in Kumasi on Monday, November 29, 2021, John Boadu told journalists that the NPP is not surprised by the decision of the NDC MPs.
According to him, the decision by the minority is part of a plan to obstruct the government not caring about the implications.
"It is no secret that the Minority intended to reject the Budget statement as a show of political force. To the Minority, the near-even number of members in Parliament is an opportunity to obstruct the Government's financial statement for political embarrassment. The Minority NDC could care less if this posture leads to a crisis of payments, including salaries, as long as they believe they look politically good," John Boadu said at the press conference.
Speaking on the concerns raised on the Electronic Transaction Levy (E-Levy), John Boadu said it is the view of the NPP that it is the most sustainable way forward for boosting public finances at this time.
He said the e-levy, as proposed, offers the opportunity to break out into a future of self-mobilised and self-controlled resources.
Mr. Boadu in his address challenged the NDC to come out with a better alternative if they want to continuously oppose the passing of the 2022 budget that would see the implementation of the e-levy.