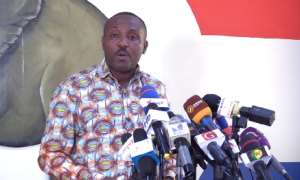 NPP General Secretary John Boadu
The New Patriotic Party (NPP) is chasing the National Democratic Congress (NDC) for alternatives to the controversial 1.75% Electronic Transaction Levy (E-Levy).
Parliament last Friday rejected the approval of the 2022 budget statement that seeks to introduce the E-Levy.
In reaction, John Boadu who is the General Secretary of the NPP says the minority should come up with their alternatives if they want it removed.
"Now, the NDC must tell us what their alternative is for Ghana. Is it their view that Government puts levies on petroleum products?
"Is it their view that government continues borrowing? Is it their view that we collapse the local manufacturing economy in favour of imports?
"The NDC must answer these questions to Ghanaians," John Boadu told journalists at a press conference in Koforidua on Monday, November 29, 2021.
According to the General Secretary of the NPP, the ruling government remains sensitive to the needs of Ghanaians and the capacity of Ghanaians to take charge of their own future.
He said it is the view of the NPP that the 2022 budget will bring the needed development to the country hence it must be supported.
"The NPP will continue to offer well thought-through policies for the good people of Ghana. These policies would generate the much-needed jobs and incomes for our youth.
"Our policies will continue to generate resources to develop the hard and soft infrastructure of the country. Our policies will continue to provide education to all in need. Our policies will continue to protect and grow the health sector," John Boadu emphasised.