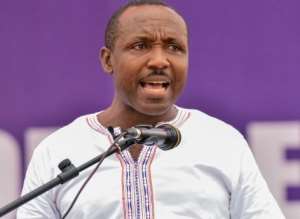 The New Patriotic Party (NPP) is appealing to Ghanaians to support the 2022 budget presented to Parliament by Finance Minister Ken Ofori-Atta for it to be approved.
The Budget Statement and Economic Policy proposal of the ruling government has been rejected by Parliament after all 137 minority MPs agreed that its current state will only bring untold hardships on Ghanaians.
The NPP at a press conference on Monday has made a passionate appeal to solicit support.
Addressing journalists at the press conference, John Boadu who is General Secretary of the NPP said, "We in the New Patriotic Party (NPP) remain sensitive to the needs of the Ghanaian people and the capacity of Ghanaians to take charge of their own future.
"It is on this basis that we call on all Ghanaians to support this government's budget, the 'Agyenkwa budget' for growth and expansion of our economy and for redistribution of taxes in this country."
The NPP insists that despite the rejection from the NDC MPs, it is baffling they are still unable to provide an alternative solution.
The ruling party hence wants Ghanaians to support the 2022 budget in order to help the government develop the country.