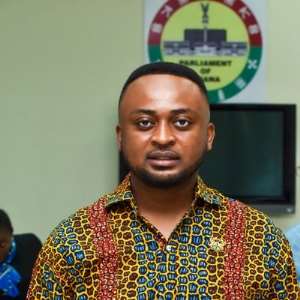 Member of Parliament for Old Tafo, Ekow Vincent Assafuah
Member of Parliament for Old Tafo, Ekow Vincent Assafuah says it was illegal for the Speaker of Parliament Alban Bagbin to have ordered the Minister of Finance to leave the hall or asked the Marshalls to walk him out.
Sharing his opinion with Joy News Channel's Animwaa Anim Addo on the brouhaha surrounding the 2022 Budget Statement, Hon Assafuah indicated that the Vice President, Ministers and Deputy Ministers of State were supposed to be given privileges in Parliament hence the order from the Speaker to the Minister of Finance was not right.
He added that the Minority Caucus in its bid to also frustrate government business sought to put something on nothing last Friday in the House.
"Who in this country doesn't know Ken Ofori Atta, which among us Members of Parliament doesn't know Ken Ofori Atta, it is proper to call them out, and especially the Speaker that it was not right to call them out of the chamber at that time. I am saying that yes, he needs not to partake in the voting but if you are going to do head count, if Ken Ofori Atta stands up for him to be counted you won't see.
"All that I want to say is that, the Ghanaian peole should know, and understand that, the NDC sought to put something on nothing and so if the headlines has it that the budget has been rejected which was done on an illegality so we can understand as he rightly said, come tomorrow, its not as if we are afraid of the NDC. You are calling us in the media to come to the Chamber as if we are afraid of the NDC, no."
Discussions on the 2022 budget statement in Parliament last Friday turned chaotic when the Majority caucus felt the Speaker was unfair and misconducting himself.
The Speaker, Rt. Hon. Alban Bagbin before calling out for votes on the budget asked everyone in the Chamber who was not a Member of the House to walk out including the Finance Minister who was walked out.
This infuriated the Majority who also called for the General Secretary of the National Democratic Congress, Johnson Asiedu Nketia who was then sitting in the public gallery to be walked out but were ignored.
This further angered them to walk out of the chamber.
That action could not stop the Speaker as he went ahead with proceedings leading to the rejection of the 2022 Budget Statement.
But, the Tafo MP insisted that the budget had not been rejected and that the motion would be moved again Tuesday.
He said as a government, there was the need to take a decision on points the Minority raised during the debate indicating that the processes needed more time.