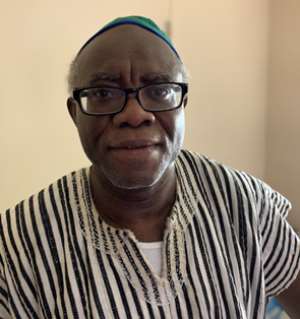 I definitely knew that the Township of Sampa, due to the extensive missionary travels and activities of my maternal grandparents, The Rev. Theodore Henry (Yawbe) Sintim(-Aboagye), of the Presbyterian Church of Ghana, and his wife Grace Akosua Ateaa Agyeman-Sintim, was located somewhere in the old Brong-Ahafo Region, presently split into the three administrative regions of Bono-East, Bono Proper and Ahafo. But I was not very certain of exactly where the Township of Mankranso, conspicuously misspelled as "Mankraso," lay. So, as usual, I quickly Googled up the latter and was told that it was located somewhere in the Asante Region, Ghana's most central and most populous region among the country's present 16 regions. Which means that distance-wise, and relatively speaking, the Sampa-Mankranso Highway is quite a stretch. But, of course, the distance between these two townships on the map is not the focus of this column or story presently.
Rather, it has to do with news report by the Classfmonline.com media portal that three of the most notorious, cheapest and most publicity-hungry National Democratic Congress' Members of Parliament had come under a fusillade of gunfire from some unidentified suspected armed robbers while traveling on the aforementioned roadway or highway for some officially unspecified "engagement" in a convoy of three V8 Toyota SUVs of the gas-guzzling type that is routinely associated with kleptocratic Ghanaian politicians, when Messrs. Samuel George Nartey, popularly known as Sam George; Rockson-Nelson Dafeamekpor, and Emmanuel Kwasi Bedzrah chanced on or across a platoon of armed robbers who, we are told, were already holding some commuters and passengers of some commercial vehicles hostage and literally fleecing these unidentified victims when their would-be National Democratic Congress' Rescuers chanced, Rambo style, onto the crime scene (See "Dafeamekpor, Sam George, Bedzrah Convoy Foils Robbery on Sampa-Mankra[n]so Highway" Modernghana.com 11/25/21).
There are quite a few problems of very questionable nature with this unsigned, unbylined, or anonymously written and posted news story, the first of which has to do with the fact that absolutely none of these NDC Main Opposition MPs comes from the Sampa-Mankranso area of the country. Neither do Messrs. Samuel George Nartey, Rockson-Nelson Dafeamekpor and Emmanuel Kwasi Bedzrah represent any part of the area under discussion in Ghana's Parliament or National Assembly. As any studious observer or student of Ghana's Fourth Republican Political Culture already knows or could attest, Mr. Nartey represents the people of Ningo-Prampram Constituency, in the Greater-Accra Region. Mr. Dafeamekpor represents the people of the South-Dayi Constituency, while Mr. Bedzrah represents the residents of Ho-West. Both South-Dayi and Ho-West are located in the Volta Region.
So, now, the real question becomes: Precisely how did these Three NDC Musketeers, who smugly and visibly proudly claim that their bodyguards or "security" detail had exchanged superior gunfire with these purported armed robbers, come by their so-called Official Engagement in the Sampa-Mankranso vicinity of the country and in the thick Stygian darkness of such a decidedly ungodly hour, being fully aware of the dicey security climate in the country? Secondly, these three NDC "Osagyefos" tell us that their alleged armed robbers had taken advantage of the cover of darkness to fleece or thoroughly rob several commuters and passengers who these armed robbers effectively held captive. Well, the most logical question to ask here is this: Why had these "officially engaged" NDC-MPs not called for police assistance right away, once they and/or their security details had brought this precarious and potentially deadly situation under control, especially on behalf of the commuters and passengers who were being held hostage and had already been robbed by the suspected armed robbers who, our anonymous reporter tells us, had "fled the crime scene [by] using the forest cover for their getaway?
In short, this matter should not be allowed to quickly vanish into thin air by making undeserved overnight heroes of people who may very well have staged this entire propagandistic fairy tale in order to obviously make themselves feel jolly at the expense of hardworking operatives of the Akufo-Addo-led government of the New Patriotic Party (NPP). The Inspector-General of Police (IGP), Dr. George Akuffo-Dampare needs to promptly dispatch some crackerjack personnel of the Criminal Investigations Division (CID) of the Ghana Police Service (GPS) to the crime scene, to conduct a thorough investigation into this most pressing matter. It should not quietly end with the self-preening Three NDC Musketeers shamelessly congratulating themselves and calling for the Ghana Police Personnel "to be offered all the needed support to fight armed robbery," whether in view of the fast- approaching Christmas season or any other day or season, for that matter.
Ghanaian taxpayers also have a bounden obligation to know precisely what these three National Democratic Congress-sponsored Members of Parliament were doing on the night of November 25, 2021, on the Sampa-Mankranso Highway, in view of the fact that the news report on which this column is based clearly states that Messrs. Nartey, Dafeamekpor and Bedzrah were accompanied by government-paid security details and, highly likely, taxpayer-salaried chauffeurs or official drivers. Now, of course, we could also talk about the economic responsibility and cost-effectiveness of these Three Members of Parliament from the same political party traveling to the same "official engagement" in three separate gas-guzzling V8 Toyota SUVs on a 400-plus-mile roundtrip at the expense of the Ghanaian taxpayer. It makes a luxury jet-flying President Addo Dankwa Akufo-Addo seem like a highway-jogging pedestrian.
*Visit my blog at: KwameOkoampaAhoofeJr
By Kwame Okoampa-Ahoofe, Jr., PhD
English Department, SUNY-Nassau
Garden City, New York
November 26, 2021
E-mail: [email protected]