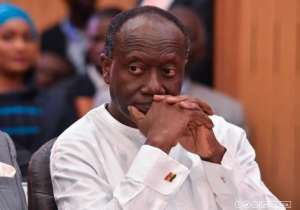 "Whether it is an Umbrella, Elephant, Bird, Corn, Mouse, Rabbit, Cathedral, Broni, Green, White or Black Book....these are all vibrant platitudes of emptiness. They will desert you when you need them most!"
We thought we were running away from the wrath of the frying pan, until we plunged into the flames! We were simply tired of the Green Book, tired of the photos of bridges, school blocks left uncompleted in the bushes, beautiful photos of ports and harbors, the Komenda sugar factory, hospitals and the rest of them. "What use is Komenda sugar or Ridge Hospital or even Ghana's Dubai to a hungry stomach?" we cried.
We wanted change, a change that would fill our pockets with cash and our stomachs with food. We wanted salvation for our stomachs. So we voted for change, for hope, for free things....free SHS, free dams in every village from Walewale to Half Asini, free factories in every city to create jobs for the youth, abolition and banishment of dumsor, and the rest of them.
Nana and Bawumia led us on our blind allegiance. "We would reduce petrol prices," they fired our hungry appetite with superlative baits. Every constituency was to receive a mouth-watering one million dollars for development. Wow! There would be so many jobs such that no Ghanaian would be hungry. In short, life would be sweet in Ghana again if we banished the umbrella into opposition and resurrected the Elephant!
"Things would be fine and Ghana would work again" once we drove the "chop chop" Umbrella into the rainy streets outside the Flagstaff House and turn the Elephant loose from the jungle into the city center. He would protect the public purse, the Elephant. He would not trample on the people. Corruption would be crashed out of government so freedom and development can live in harmony for the people to prosper. Ghana would be a paradise on earth!
Much more was promised that could drown an articulator truck in the red sea. Our roads would bounce back to smartness and even the proverbial Eastern Corridor Road that has been the bane of
governments in the Fourth Republic (for they all pay it lip service in their progressive manifestoes but are happy to forget about it when in government) would receive attention this time around, for the Elephant has the men to build a Ghana that would be the sole envy of the rest of humanity.
But in our eagerness for electoral change, we forgot that nothing comes free in this world and that politicians in opposition are not the same as politicians in government. Opposition politicians come to power parodying the language of the poor. They speak like the poor, eat yorke gari and drink calypo in public, sing and dance to everyday music until they lay hold on the reins of government then they listen to jazz. They will forget the poor and even take the little the poor has from him!
So now that the Elephant has delivered on all her promises, built brand new dams and factories all over town and lowered food prices ─ thanks to that policy ─ what's the name again ─ Planting for Food and Jobs ─ the poor man's goose is cooked!
The Elephant in the city wants more taxes for development. And so they turn to the poor again. The poor are in the majority and they are the ones who must make sacrifices. The economy they have boasted and bragged about for 5 years, painted and dressed in party slogans and colors ─so far so good ─ four more for Nana ─ is suddenly gasping for breath in an incubator and it is the poor who knows how to resurrect it.
You want to live long? Put thy trust in God. Whether Umbrella, Elephant, Bird, Corn, Hen, Rabbit, Cathedral, Broni, Green, White or Black Book....these are all platitudes of emptiness. They will desert you when you need them most!