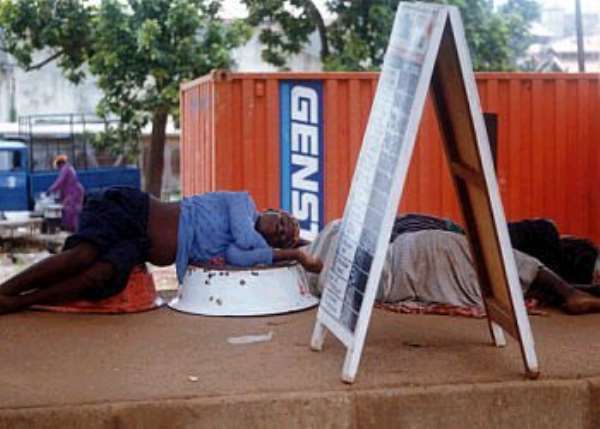 Isabella Gyau Orhin for Public Agenda "Workers are lazy, they arrive at work late, spend long hours at lunch attend funerals on Fridays and arrive the following Tuesday at work."
These were part of perceptions of the Ghanaian worker put forward by Kwaku Sakyi Addo host of Accra Joy FM's Front Page programme for discussion last Friday. This year's May Day Celebration which fell on Thursday had the theme "Democratic Workers Participation and Improving incomes: Dividends of Good Governance." Ghanaian workers have been accused of working lotto in their offices.
Although Ghanaian workers have argued over the years that poor remuneration has led to the current state of apathy on the part of some workers, the issue as to how best to solve the situation comes up for discussion every May Day. The Chairman of the Industrial and Commercial Workers Union (ICU) Napoleon Kpoh does not believe Ghanaian workers are not working hard.
Every year, most organisations in Ghana declare huge profits, but for the workers who is responsible for the profits?" he asked.
However Kpoh however believes there are a few recalcitrant workers and blames their attitude on poor supervision.
Supervisors themselves do not live up to expectation and some workers take advantage of that.
Kpoh says some bosses join the junior staff in working lotto.
If supervisors do their work well, there would be discipline in organisations." Kpoh says.
He maintains that lack of commendation on the part of employers has contributed in no small way to the current sate of affairs. Commendation Employers according to him only criticise workers when they go wrong but say nothing when they excel. He said verbal commendation could go a long way to increase productivity at workplaces.
Many Ghanaians who called in to the various radio stations discussing the importance of May Day celebrations were of the view that employers should first motivate their staff before expecting higher productivity from them.
"It is like the chicken and egg affair," said one caller, "which one should come first, higher income or hard work, I demand higher income first."
The Executive Director of the Ghana Employers Association (GEA) Rose Karikari Annang says it is time employers and organised labour come together to find ways of resolving the dispute around productivity.
The current situation of majority of Ghanaian workers is really a sorry one that is characterized by low incomes, rising cost of goods and services, poor safety and health at work, poor nutrition and inadequate access to potable water, poor housing and sanitation, low access to education and health, inadequate mass transport and weak social security and protection, TUC Secretary -General Kwasi Adu Amankwaah said at the workers parade to mark May 1, at the Independence Square.
Although the Ghana Poverty Reduction strategy also focuses on GDP growth as the key factor for poverty reduction, Adu Amankwaah argued that growth is a key factor but not sufficient to reduce poverty.
"Low incomes and income disparities in the 1990s demonstrate that in spite of annual GDP growth rate of five percent there was no significant reduction in the incidence of poverty." Low wages Adu Amankwah also contended that wages in Ghana are among the lowest in Africa. In addition to this there has been a drastic fall in real earnings in Ghana since the 1970s. In the 1980s real earnings were below those of 1970s while in the 1990s there was a fall in real incomes in terms of US dollar. "Average annual households and per capita incomes were $1,200 and $267 respectively in 1992 and fell to $947 and $220 in 1999," he explained. He said in terms of growing disparities, the total shares of incomes of the lowest earning ten percent of the labour force reduced from 1.3 percent in 1992 to 0.3 percent in 1999 while the share of the highest earning ten percent rose from 36 percent in 1992 to 42.5 percent n 1999. Again Adu Amankwaah said 39 percent of the entire Ghanaian labour force earn below the national poverty line of one dollar per day. According to Adu Amankwaah TUC recognises the importance of the national minimum wage which is now 9,200 cedis (a little over a dollar) as one of the ways of raising incomes and combating poverty.
"We would like to remind the government of the importance of giving legal backing to the minimum wage so that it can truly play the role of acting as a safety net for vulnerable and unprotected workers," he said.
He said, when the people clamoured for democracy and change, it was also an expression of dissatisfaction with their material conditions and a cry for improvement in their living standards.
Responding President John Agyekum Kufuor said government would not adopt short term measures for solving the nation's economic and social problems. Demands He said although the increment in the prices of petroleum products and utility services has given rise to demands for higher wages, the economy cannot support workers' demands.
The government also used the occasion to explain its stance on health insurance.
President Kufuor said the government's decision to use two and a half percent of workers' contribution to the Social Security and National Insurance Trust (SSNIT) will not endanger their pension benefits.
He said the government as largest employer and the biggest contributor to the SSNIT scheme as well as the guarantor to the SSNIT itself has an obligation to ensure that the Trust is able to at all times meet its obligations to contributors.
The Accra District Council of Labour (ADCL) of the Trades Union Congress (TUC), on April 10, endorsed the TUC leadership's position against the government's intention to use part of the Social Security and National Insurance Trust (SSNIT) contributions , to start the Health Insurance Scheme.
"If you say you are going to take two and a half percent of my pension money to do a health insurance how do I benefit, when already my employer takes care of my health needs." The Assistant Secretary of local Teachers and Education Workers Union of University of Ghana, Kofi Doe Lawson explained to Public Agenda.