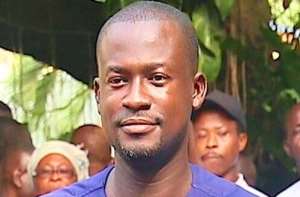 The Director of Communication, Eugene Arhin. Photo credit: Ghana media
Communication Director, Eugene Arhin, a couple of months ago, a misunderstanding between you and your wife, didn't only make headlines but also confirmed what we already know, about 95% of Ghanaian politicians are inspired to join politics just to amass wealth at the expense of the suffering Ghanaians.
Within a relatively short period, your easily acquired money and possessions dramatically changed your life that you think you need extramarital affairs which eventually provoked your wife to expose you.
After a few days have passed, your wife came back to tell Ghanaians you don't owe all that she mentioned. That's always the case about people occupying high positions that have no respect for the common people.
I want to make it clear to you that Ghana is a"Shithole nation," as referred to by the former American president, Donald Trump, the reason today you are still working as a politician or Communication Director to the president.
The law doesn't work in Ghana; therefore, it may be likely that you have escaped an investigation that could probably have landed you behind bars between seven to ten years if found guilty.
Because the case you were involved in was very serious that you wouldn't have escaped so easily in any developed or another developing country, without going to prison or your assets confiscated.
Ghanaians are crying daily, the country is going bad and nothing is working, yet the same Ghanaians accept people like you and Chief Justice Kwasi Anin-Yeboah to serve them. Both of you have no chance in any good country to continue working. I just made it clear to you.
Eugene Arhin, if you were involved in a corruption scandal and you didn't face any prosecution in the country doesn't give you the right to take Ghanaians as fools by saying "Akufo-Addo's 2020 victory proves he protected the public purse."
The fact that the president failed to give you a sack from the administration of the NPP, has gingered your flare to think you need to thank him, that's why you spewed out this insignificant statement.
You are now defending Akufo Addo, one of the most corrupt leaders in Ghana's political history. Above all, the NPP didn't win the 2020 elections. It was rigged by the Electoral Commission's boss Jean Mensah.
Every persuasion from the opposition and the angry suffering Ghanaians for Jean Mensah to be present in the witness box was futile. Just like you, she escaped her crime with impunity because we are in a 'Shithole nation.'
In the fight against corruption in the country, Eugene Arhin, it is better to remain silent than to make your voice heard.
Ghana is a different country but such provoking statements you made, can easily ignite political unrest or violence, especially in a country that for years the economy remains unfriendly and many, including the youth, are facing an unemployment crisis.