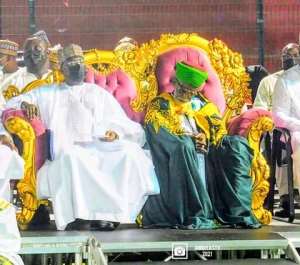 The press statement of coalition of concerned Muslim Youth organisations (14th November,2021), literature ignores (the) fact that humour does many things.
Joking socially is a way of bonding with people. Political comedy can foster a sense of shared ideals. Charles Gruner refers to it as "innocent" jokes simply as " humour" (Gruner 1996, 288).
The National Chief Imam, his spiritual eminence, Sheikh Osman Nuhu Sharubutu is a father to both the Vice President Dr Mahamudu Bawumia and former President John Mahama. It is normal for them to sometimes display " innocent" jokes before their father. This will enable him know that there is harmonious relationship between them and they are progressing cordially.
The hullabaloo about the laughter of Dr Bawumia is nothing but a positive signal to the audience at the August National Maulud that there is religious diversity and peaceful co-existence among them. Laughter is a lubricant and is expected, and it's really hard not to do it.
Dr Bawumia did no wrong to playfully invite his brother John Mahama to his faith. It is becoming a norm these days that two opponents will make a funny remark about each other on the same occasion. Must everything be too serious. Shouldn't public office holders be free to show they are humans. Should everything be about the office. Those trying to make mountains out of molehill should note that both Dr Bawumia and John Mahama are brothers before politics. And they are free to express their brotherly feelings about themselves. They love each other. They share common traits together. In fact, there is a cordially relationship between them. It is normal for brothers to sometimes leave the seriousness aside and be jovial.
What Dr Bawumia did will even send a lot of signals to the audience, Ghanaians and foreigners alike that Ghana is really a place of religious diversity and tolerance!
Zakari Mohammed (Oli)
0202246403
Bawku UER.