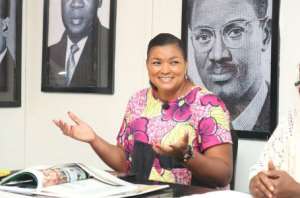 Gabriella Tetteh
A member of the Communication Team of opposition National Democratic Congress (NDC) Gabriella Tetteh has resisted counsel from some experts to stop addressing issues relating to fuel with political lenses.
She claims the NPP politicised fuel prices hikes during the Mahama administration to rise to power in the 2016 elections.
Speaking on Pan African Television on Tuesday, Madam Tetteh stated, "There is absolutely no way that we can avoid doing politics with the fuel. Because fuel drives everything. I don't know why the chairman he is now coming to the realization that when you do politics with the fuel it will always come and bite you.
"In 2017 Ghana exported fuel to the tune of 2.8 billion dollars, and imported the same fuel at 1.7 billion dollars, meaning the country made a net gains of 1.1 billion dollars."
She continued, "Why is it that this country, we are producing crude, but we are unable to process crude to serve the people of Ghana. We have a TOR Refinery sitting there, what stops this country from investing in TOR to process our kind of crude, because there are people, private interests who are benefitting from the state TOR is in."
Her comment follows what appears a weekly fuel prices increment.
This, many persons and groups, including religious groups have called on government to do something to cushion citizens against the skyrocketing prices.
But the New Juaben North Constituency Chairman of the ruling New Patriotic Party (NPP) Kwadwo Boateng Agyemang has rendered an apology to Ghanaians on behalf of his Party (NPP) for campaigning with fuel prices while in opposition.
"In humility, we all used fuel prices to campaign. For me and my President and my Party, we apologise because, we were in analogue at that time, now we are in digitalisation. Fuel is not under any control and no government can depreciate the prices," he told Kwabena Owusu.
He continued, "Fuel has now become like COVID-19, just the way we couldn't control COVID-19 it's related, thus we can't control fuel increment."