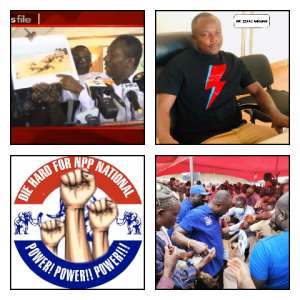 The legendary Amakye Dede sung about a vulnerable bird (Asonsiansa) and her orphaned helpless hatchling (Kwaagyabi) in his hit song _Kosɛ Kosɛ_ (sympathy).
Asonsiansa the mother bird herself is so weak, and can't fly up a tall tree, safe Agyama, (a shrub) to nestle the hatchling. And when Asonsiansa goes out to look for food for her Kwaagyabi and likely hunted by other predators, the hapless orphaned hatchling fall from the nest, and be crawling under the Agyama shrub, becoming a prey to any hungry creature.
Deducing from this timeless composition by the Ghanaian Highlife maestro, the Bono Chairman of the New Patriotic Party's (NPP) Die Hard Supporters, Mr. Isaac Ankamah has spoken about the need to protect the vulnerable before the unfortunate happens.
As the people of Keta were displaced by tidal waves and the Deputy Majority Leader in Parliament Hon. Afenyo Markins blamed it on sand winning activities going on at the coastal belt, the Ghana's divisive partisan polity meant the affected communities are made to concentrate on the blunder in citation of a picture source than the message the legislator carried across.
Going extra to highlight what human activity can cause harm to the environment such as witnessed in the rising tidal waves, Mr. Isaac Ankamah mentions that climate change wrecks havoc easily when facilitated by such unscrupulous activities as do the sand winners.
In his view, the indefatigable youthful chairman who doubles as a businessman and a philanthropist based in Sunyani counsels parliamentarians "not to buckle under the weight of backlash if they're to stand by the truth that will, in the end, safeguard the environment."
"Not only in Ghana, but today, all over the world, greenhouse gas emissions are threatening the health of the sea, and if aggravated by sand winning by the very inhabitants of same place, then how do government shoulder the impending catastrophe?" Mr Ankamah rhetorically asked.
At the recent COP26 Summit in Glasgow, Scotland, Ghana's President Nana Akufo-Addo reminded rich nations to redeem their promises made to poor nations who are less emitters but likely sufferers of climatic deadly outcomes to build sieges as will be needed at the Keta seashores.
The Chairman who is the CEO of Kofanki Investment at Sunyani ended on Amakye Dede's Kosɛ Kosɛ song, sympathising with the more than 4000 affected people in the Ketu municipality, and assured them of his belief in the NPP government's timely rescue of the vulnerable Asonsiansa and her hatchlings Kwaagyabi.
By Charles Yeboah (Sir Lord)
+233249542111