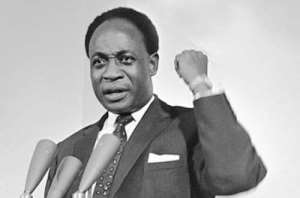 One is yet to talk at length, about it, with the brilliant and selfless Isah Ouedragoe, but if what one is hearing from bush-telegraph sources, about what appears to be an attempt to elbow him out of B-BOVID, a successful green agribusiness he founded, to give back to society (for his good fortune in successfully escaping the poverty that would have been his lot, as an orphaned young boy, had he not been blessed by Providence), is true, then one has a simple message to convey to Isah, and other green entrepreneurs with a social-conscience, across Anglophone Africa. This is one's message:
Isah, what they fear most, is the negative publicity, in France, that this attempted stealth-takeover might generate, because they know, in their stony-hearts, that they have been egregiously unfair, to you, in leveraging the value of your green corporate ethical-ethos, and hijacking its win-win bedrock corporate-philosophical-foundation, to enable them make vast profits, using their green-washing zilch-investment reverse-takeover formula.
It is a formula that has worked incredibly well, for sly Corporate France, in Francophone Africa, to enable them siphon off as much as US $400 billion, annually, from the former French colonies across Black Africa, and has kept Haiti poor, for centuries now. Imagine that Massa. Hmmm, eyeasem, oooo.
Do not let them add you to their many victims, wai, Massa. Fancy demanding that B-BOVID, a green social-enterprise, pay a salary of US $18,000 per month, and provide a driver, sundry house-helpers, gardener, etc. etc., to a French executive, to live in Ghana, like an Arabian oil Sheikh. Kwasiasem, kwaa. Why, are you producing and selling oil and natural gas,too, now, anaaaaa? Enough is enough. Haaba. Case closed. Full stop. Massa, don't give in, now, ooooo. Yooooooo...