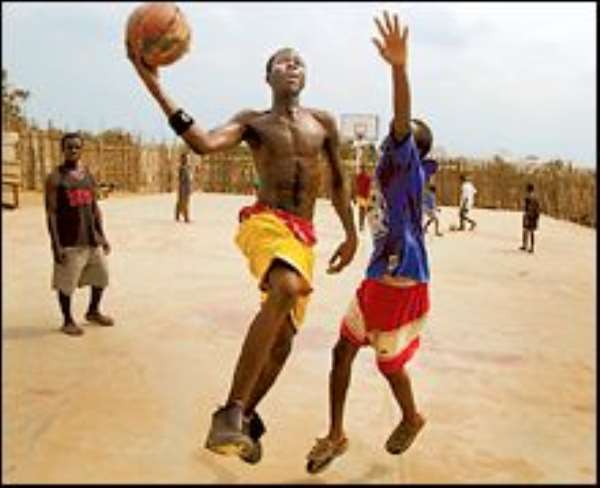 The government needs to heed the call of the security agencies to relocate the refugee camp at Budunburam seriously. From all indications no one is benefiting from this humanitarian arrangement. This is a ghetto, and a breeding ground for criminals, far beyond what Ghana can produce locally, as it comes across in recent news articles. The individuals, or refugees, legally cannot work, or are not working; they live in squalor, and now have achieved full Ghetto status- harboring criminals. Is this what Ghanaians get for being hospitable? Of course we accept everything.
First of all, I am not sure what the UNCR is thinking, if as a policy, it has stopped providing monies to these refugees. For whatever reason, the lack of monies to the residents creates a risky situation for the host country. People who have no right to work in the country are pushed into a corner, as they have to find means to earn money to survive. Of course their activities, from this position, becomes illegal regardless of what they do. Ghana, in its attempt to create a modest society, amidst a crime ridden and wore torn region does not need backlash from goodwill, and it is for this reason that the State needs to react in swift fashion to relocate, reorganize, and continuously monitor these camps.
Recently, when the Mercer Human Resources Consulting ranked the "worlds worst cities" (http://news.bbc.co.uk/2/hi/africa/2815105.stm), African cities were "proudly" represented, taking 17 of the bottom 20 places. The criteria, had to do with crime, effects of war and overall risk and quality of life. Of course, we had to lead this survey!!!!!!!!!!
These rankings also have a direct impact on investment, and it is from such a perspective that I urge the government of Ghana to say it as it is with this Buduburam issue. The UN Refugee Agency (UNHCR) in Ghana must pay up and actually finance current security presence and raids being conducted. They also need to finance the relocation process and bring some long term planning into how to assimilate these folks into the Ghanaian system, as there seem not to be any end in sight with respect to the issues in Liberia.
Ghana must protect its citizens especially where there is eminent danger, as is the case now. Lets not fool ourselves. To sweep issues like this under the rug will only create a huge problem for innocent people in Ghana. I urge the United Nations to evaluate this issue and save the country from potential mayhem, which could result from this issue, if it is not handled as a security issue needing immediate action. Some literature on refugee welfare hails this Budumburam camp as a model refugee camp. For whom is it a model camp? I this to satisfy the egos of UN folks, without consideration for the potential danger, which looms behind this distorted picture? Once again the ultimate victim will be the poor Ghanaian, who will be failed by the establishment if action is not taken now, and pressure is not put on UNHCR to approach this whole issue with the camp in a different way. Simply put, reduce the danger for the Ghanaian host.
UNHCR needs to build a facility, or facilities, that can improve the lives of these people, give them skills, and possibly provide them with some seed capital to start small scale business, with the legal backing of Ghana. To leave these folks in the camp, with no money, no new skills, and possibly weapons, and combat skills, simply insults the kindness of Ghanaians, as even in the civilized world, in the name of humanity, such an arrangement would not have been acceptable.
The press must also assist the security agencies to continue to monitor this situation, and not let it be a short-lived sensational story. Should any city, such as Accra, fall in the lower rankings of the Mercer Survey, it will be equal to the kiss of death for foreign Investment flow into the country. Sadly, Abidjan, the once beautiful city and regional showpiece of the West African sub- region made a poor grade on this list. The implications from this, affects the sub-region in its entirety.