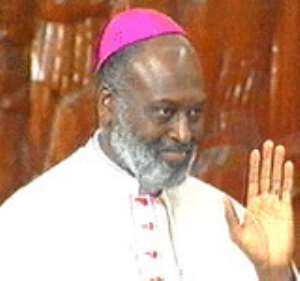 Despite the Catholic Bishops Conference statement on the need for the president to do something swift to cushion the hardships felt by Ghanaians due to fuel price hikes and sharp increases in basic necessities, Right Rev. Palmer Buckle, on the contrary, has called on the Christendom to, as a matter of urgency, support president Nana Akufo Addo to build Cathedral for Ghana under an excruciating incompetent-corruption motivated economic hardships. For him to ask every Christian to pay 100gh a year for two years, is a complete betrayal of the kingdom of God, and he must bow his head in shame. Did the president consult the Christians before taking the decision? If you make a solemn promise with your God, that does not call for the public to help you settle your scores with God! In any case, it is the taxpayer's money, the fuel money and tax on kenkey and waakye that he is using to build the Cathedral. Is it his money?
As a man of God, instead of the Bishop adding his voice to his colleagues demanding that the government do something to cushion the economic hardships the public are embattled with, he has decided to defend the government for his personal good. What a world we have found ourselves in, such that men of God cannot even have the nerves and courage to speak the truth for public good?
Support the Cathedral, Cathedral, my legs!
I just cannot think far!
He has sold his birth right as Bishop!
If at this critical moment in our nation history, those who have moral authority to speak to the issues, rather coil back and support the wrongs, aren't we doomed? Where are we going? Let's stop commercialising religion for personal aggrandisement for God sake!
A fine apple but rotten at the heart!
Right Rev. Palmer Buckle should do the needful by apologising to the Catholic Church for stabbing the leadership at the back. His authority and honour rest in the mutual respect the Church accords him in the name of his commitment and dedication to the course of the welfare of the Christendom.
Concerned Citizen, not a Spectator