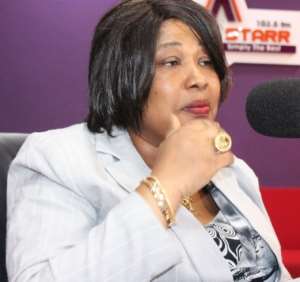 General Secretary for the Convention Peoples' Party (CPP), Nana Yaa Jantuah has described the Akufo Addo-Bawumia's performance in employment as abysmal and unacceptable.
She said government has failed to create job opportunities for the 50 percent unemployed.
According to her, the promises of the New Patriotic Party (NPP) in 2016 was that they would create a lot jobs the extent that people from neighboring countries would come into Ghana, learn English and apply for jobs.
However, she noted, their maladministration of the country has rather plunged it into despondency.
"Even though their IDIF is a fantastic idea, what have they done out of it? The 1D1F and the job fair they recently organized have all become a showcase, when the people need real jobs.
"When you finish university with the view of doing something for yourself, they say NABCO, how sustaining is that NABCO. These adhoc showcase projects made to deceive the people must stop," she noted.
Nana Yaa Jantuah who was speaking in an exclusive interview with ModernGhana News, indicated that the CPP has always had better policies than any party in Ghana.
This, she noted places the party in the best position to help the rising unemployed and frustrated youth of Ghana.
According to her, a CPP government would resuscitate all State Owned Enterprises and factories that are no longer functioning.
"The cost of living has become so high that everyone is lamenting. People can no longer buy fuel, trotro drivers are even lamenting and going on strike, not to talk of spare parts prices. This is totally unacceptable," she said emotionally.
The CPP, she said, holds the key to better governance in Ghana, urging Ghanaians to look beyond the NPP and NDC who have failed the nation repeatedly.