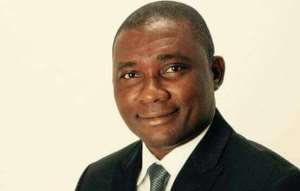 George Mireku Duker
A Deputy Minister of Lands and Natural Resources, George Mireku Duker has disclosed that government has plans to set up a Minerals Development Bank (MDB).
He said the purpose of the bank is to provide needed support to small-scale miners in the country.
"The minerals bank would be to assist the small-scale miners because as a Ministry, we cannot give facilities to such people so we are supporting the miners", Mireku Duker told 3FM in an interview on Thursday, November 4, 2021.
While the bank is yet to see the light of day, the Deputy Lands and Natural Resource Minister has revealed that the government is in talks with another bank to come to the aid of the small-scale miners.
"….for now that the bank is delayed, we are engaging the Agricultural Development Bank (ADB) to offer some facilities to these people.
"The banks give you facility and the Minerals Commission would serve as a guarantor by purchasing the equipment for you because they certified the small scale miners," Mr. Duker added.
According to the Minister, the plan is to cut any unhealthy relationship with the Chinese and any other investor who engages in illegality.