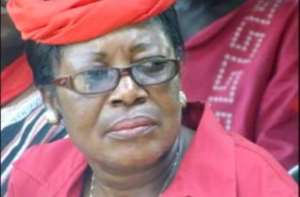 On Sunday, September 19, 2021, Ama Benyiwa-Doe also known as Ama Chavez passed on to eternity at the International Maritime Hospital in Tema. The news of her demise went viral as usual until an official confirmation was made by her family.
The Honourable Ama Benyiwa-Doe became a household name in Ghana when she gained prominence with her vociferous style of discourse on Peace FM's morning show Kokrokoo in defence of her darling party, the National Democratic Congress. This happened especially during President Agyekum Kuffuor's tenure as president. Her fante accent and style of political discourse made her a delight to listen to.
She served as the first Member of Parliament for the inhabitants of Gomoa West Constituency and served as a three-term Member of Parliament from 1992 to 2004 before losing the seat to Mr. Joe Kingsley Hackman of the NPP.
Upon the winning of the 2008 general elections by the National Democratic Congress, then President John Atta-Mills of blessed memory appointed her as the first female Central Regional Minister who served from 2009 to 2012.
Part of this tribute about the Honourable Ama Benyiwa-Doe would be focusing on her relationship with the media while she served as the Regional Minister for Central Region. The other part of the tribute would come from other people who knew the venerable Ama Chavez.
The author got to know Honourable Ama Benyiwa-Doe when she was the Central Regional Minister. This relationship grew because Hon Benyiwa-Doe deliberately took interest in whatever happened on GBC Radio Central. She was always there for GBC Radio Central to the extent that except she had travelled, she would respond to every call to her to clarify issues on governance that concerns the region.
I personally can recount an occasion where she was once interviewed and asked how come she always had her dial always hooked to GBC Radio Central and she answered that "I'm serving the region and felt it expedient to listen to the state broadcaster while in the region to able to get myself abreast with happenings in the region in order to address them".
Indeed, she could call into our programmes and contribute as a regular caller when something had been said that she felt it needed clarification. The author is the host of one of the most authoritative socio-political show in the Central Region on GBC Radio Central. The programme dubbed "Centre Stage" is aired on Saturday's between 8pm to 10pm but this humble regional political servant would stay awake and contribute to the discussion after 9:30pm when the phone lines were activated. This was Ama Benyiwa-Doe for you.
With the above notwithstanding, on her birthday's and on National Chocolate days, Hon. Benyiwa-Doe would normally bring us gift at the studio of GBC Radio Central.
I can remember during my wedding in 2012, when she couldn't attend due to some exigencies of official duties, she sent a present and some amount of money to me. Later when I visited with my wife to express our appreciation, she explained why she couldn't make it in person to the wedding.
In 2013 when God gifted us with our first child, Hon. Benyiwa-Doe again sent an amount of money through an emissary to be given to us. When I called to thank her, she explained that "I'm a Ghanaian and an Akan and appreciate our values. So don't worry because it's normal and would have been to your place personally to visit".
This attitude of hers won the heart and admiration of my wife who expressed amazement as to how such a political figure could take keen interest in things that concerns us who aren't so close to her.
In order to appreciate the diversity and impact of this political colossus in the lives of others, I spoke to Stella Antwi of ADB, Cape Coast. Stella narrated to this author that, there was a time in her life where some of her own family members had negatively portrayed her to Dr. P. A. Y. Kunranchie her God father of blessed memory.
She furthered that, Benyiwa-Doe who was a friend to her God father spoke on her behalf to him, came to narrate the incident and advised her to be very wary since some of her family members didn't wish her well and as such her destiny lied in her own hands. "That singular advice was what has carried me through life and propelled me to where I'm today and I'm most grateful to her. She was a good woman and took issues about women very seriously."
After her demise, a book of condolence was opened at her residence and people of diverse backgrounds visited and wrote in that book of condolence.
Former President John Dramani Mahama under whose presidency Ama Chavez served as a member of the Council state in a tribute, described the late women advocate as an embodiment of limitless courage, commitment and passion for service. She was one of the most inspirational icons to have served the NDC, and the country.
"She was not only a politician, but also a gender activist and champion of women's rights" President Mahama stated.
To diversify this tribute from me, I spoke to Dr. Kwamena Minta Nyarku, Cape North Member of Parliament and he had these to say about Hon. Ama Benyiwa-Doe.
"Auntie Ama or Ama Chavez", as she was popularly and affectionately called, was a courageous firebrand and a real Titan of the NDC. She was one of the foremost female voices on national issues. It was always a delight to listen to her views expressed in the Fante language which she spoke impeccably".
He furthered, to the older members of the NDC, Auntie Ama was a shining example of "Conviction, dedication and hardwork around which alone this party was built from grassroots up onto the heights that chalked the victories of nation building and the cementing of the Social Democratic ideology into the political fabric of Ghana".
To the youth, and most especially the young women, she was a bright star whose loyalty and commitment was a never-ending inspiration. "We in the NDC shall mourn her, celebrate her, learn from her life, and salute her for what she achieved for party and country."
To mention but a few, Comrade Auntie Ama Benyiwa Doe was a former Deputy Minister of Social Welfare and Employment, former Minister responsible for the Central Region, former Member of the Council of State, former National Women's Organizer of the NDC and a former three terms MP of Gomoa West Constituency.
In Dr. Minta Nyarku's tribute regarding Ama Chavez's parliamentary activities he averred that "In Parliament, she served on the Finance Committee; House Committee, the Appointments Committee, Committee on Selection, Foreign Affairs Committee and Privileges Committee. She served as the Ranking Member on the Committee for Employment, Social Welfare and State Enterprises. She was also the Deputy Minority Chief Whip (NDC) in the 2nd Parliament".
Hon. Ama Benyiwa Doe was "An icon, a voice for the voiceless, a beacon of hope, an embodiment of courage, was committed and had passion for service. Simply put, "She has been an extremely selfless person. She paved the way for many young women to take up careers in politics in Ghana and beyond."
The Cape Coast Member of Parliament adds "Indeed, she has paid her dues to the NDC party, Central Region, and Ghana at large. She has truly run the race, she has won the victor's crown of gold, and I wish her a peaceful rest in the bosom of her Maker.
Fare thee well, Hon Ama Benyiwa Doe.
Damrifa Due, Ama Chavez.
Rest in Perfect Peace!!!"
Hon. Ama Benyiwa-Doe was christened Comfort Saah in 1950 and hails from Gomoa West in the Central Region of Ghana and died on the 19th of September 2021.
Her funeral is slated for December 18th 2021. Death is the only certainty and journey that every mortal would embark upon. But, the question that should agitate the minds of people is, what would be said about you should you be called to eternity tomorrow?
I pray and hope that Hon. Ama Benyiwa-Doe would find her balance in the spiritual realm.
Ama Chavez, Damirifa due
Comfort Saah, nante yie.