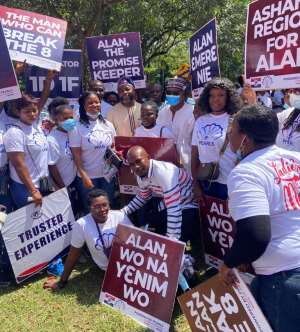 The Ashanti regional branch of the New Patriotic Party yesterday held its regional delegates conference with huge patronage.
It appears to be the biggest of all the regional conferences as more than 3000 people filled the Forest Research Institute of Ghana Gardens.
The attendants included past and present regional executives, various national and regional aspirants and grass root members drawn from various branches of the party in the region.
The huge patronage had been anticipated by political pandits knowing Ashanti region has the largest delegates number in the party, and also the region which prides itself as birth place of the party.
The more than 800 delegates were addressed by the party hierarchy in the region in addition to the General Secretary.
All persons in the party hoping to present themselves to be voted for any position had their banners fixed at vantage points.
The euphoria was more of an election day than a delegates conference due to the presence of persons hoping to contest for various positions.
Almost all the aspirants came with entourages accompanying them and singing their praise songs.
The conference which was billed to start at 9am started at 11 am due to delay in the arrival of guests.