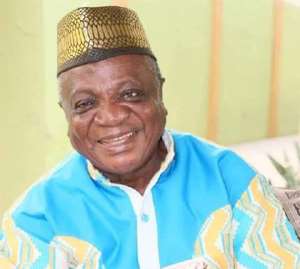 The very nature of the music industry, especially with regard to the stiff competition that prevails therein, both for recognition and commercial success, brings even the most widely acknowledged successful and prominent musicians into bitter conflict with one another from time to time. So, I was not the least bit flabbergasted to hear Daasebre Nana Kwame Ampadu, I, sorely recount an incident in which the late longtime New York City-resident Ghanaian musician by the name of Mr. Joseph "Joe" Mensah ignobly attempted to subvert an award offered Nana Ampadu by the Nigerian government. What was inexplicably flabbergasting was the fact that it was Mr. Mensah, also popularly known in his trade as "Joe Mensah of Africa," at least as the latter encomium appeared on the Long-Playing (LP) vinyl sleeve of one of his albums that my late father owned, who engineered such a classless act, as New Yorkers are wont to say. That album is presently in my possession, very likely fast gathering dust in one of my clothes-hanging closets. Most of the old man's vinyl magnetic record albums got passed on to "Junior" in the wake of his passing.
At this time, though, it is not clear, with the light-age advancement of music-storing technology, and music-making technology as well, whether I will be blessed with the honor and/or privilege of passing down the same to my two teenage sons, namely, Nana Kwame Okoampa-Ahoofe, III; and Nanasofopanyin Yaw Sintim (Aboagye) Okoampa-Ahoofe. My two "giant soldiers" have already indicated their absolute lack of interest in taking possession of any "Paleolithic" or "Dinosaur-Era" technology. So, very likely my vinyl phonograph LP records or LPs will simply end up in the garbage, somewhere, to be recycled by the New York City Sanitation Department. Or it may end up in one of the dozens of Afrocentric libraries or museums dotted all across the Continental Nation-State that is these United States of America. Already, all the hitherto prized vinyl LPs of classical Ghanaian Highlife Music can also be readily accessed on the digitized technology of YouTube and the Internet at large.
For example, I am able to readily access and play many of the original soundtracks of the evergreen music of the P S K Ampadu-led African Brothers' International Band in my car nearly every morning, between 7:30 and 9:00, when I drop Osofo Sintim at his new hi-tech high school, some five miles away. There is often heavy traffic in which I get stuck almost on a daily basis. Playing these perennial Highlife classics is what keeps me going and drastically reduces the sort of clinical insanity funk in which one gets stuck in typical New York City rush-hour traffic. The original soundtrack of Ampadu's "Obra" song has recently become my pet favorite, if also because the accent of the legendary and immortalized Maestro comes closest to Nana Ampadu's Akyem maternal tongue. But even at this stage, which is quite early in his career, that is, just before he climaxed and reached the very apogee of his artistry, our protagonist's Okwawu/Kwahu accent can be clearly perceived to be fast gaining prominence. By the time that he remixes "Obra" and adds the solo-playing horn to the latter, with magical effect, it bears remarking, the greatest Storytelling Highlife Pontiff's Okwawu/Kwahu accent had come full circle. The irony here, though, is that neither of Nana Ampadu's parents was of Okwawu/Kwahu descent.
At any rate, in his very historic and even epochal interview with Mr. Kofi Adoma, of Kofi-TV fame, the Maestro says that his mother was a bona fide native of Akyem-Kukurantumi, while his father had been of Asante descent or provenance. Perhaps Asante-Akyem descent, one surmises, even as quite a sizeable percentage of Akyem-descended Ghanaians are widely known to be paternally Asante-Akyem descended. And this is all the more to be naturally expected, since the geographical location of Asante-Akyem, sandwiched between Akyem and "Asante Proper," as it were, with Okwawu/Kwahu tangentially to the east, practically form an organic geopolitical and geocultural unit, even if they are properly speaking discrete geopolitical and geocultural units. In his Kofi-TV interview, the immortalized Maestro also notes that it was the search for arable farmland that took his parents into the Okwawuman/Kwahuman State, where they appear to have permanently settled and, presumably, become quite successful farmers by local standards. We are also inclined to believe that his parents had become relatively successful farmers because in his perhaps even more extensive and comprehensive interview with Mr. Emmanuel Kofi Nti, host of the "Hammer Time" radio talk-show, Daasebre Nana Ampadu also critically observed that when he began his musical career, he avoided showing his head up in the Okwawu/Kwahu domiciliary of his parents, for fear of being detained and permanently put to farm work, being that his father and most members of the old man's generation tended to equate a musical career with wasteful inebriation, or drunkenness, and downright lunacy.
The Joe Mensah Story most ticked me off, in informal New York City parlance, because it scandalously indicated that his remarkable international recognition, reputation, fame and all, at least on the face of things, the man who was the very first to host an African Music Show or program on the well-respected WKCR FM Radio Station, owned and operated by the New York City-based Columbia University, was not the least bit comfortable in his own skin and would rather have been clothed by the fame and fortune of Nana Ampadu than his very own. But that this at once most ignoble and disgraceful incident occurred while Joe Mensah, who once hobnobbed with the globally celebrated Jackson Five musical family, would so inexcusably slight Nana Kwame Ampadu while Mr. Mensah was the substantive President of MUSIGA, that is, the Musicians' Union of Ghana, is all the more to be pitied. You see, Joe Mensah, too, was a personal friend of my late father's and one from whom the old man purchased quite a remarkable portion of his vinyl LP record albums. And if yours truly remembers accurately, Joe Mensah had a brother called Leo Mensah with whom Joe either owned or ran a musical records store somewhere in Downtown Brooklyn, right here in the Big Apple, as New York City is also globally known.
Now, listening to the then-75-year-old Maestro tell what he apparently considered to be the most professionally traumatic story of his abject disrespect by Mr. Joe Mensah "of Africa," I could not help but dazedly wonder what my old man would have thought of such crude and shocking display of palpable envy heavily tinged with resentment on the part of one of these great musician friends of his. It is quite possible and even very likely that the old man would not have been as flabbergasted as I was, watching the Ampadu interview on the "Hammer Time" radio talk-show a year after the fact. You see, adult contemporaries tend to know certain unflattering details about the lives and behaviors of one another that may be completely hidden from their own children or the younger generations.
*Visit my blog at: KwameOkoampaAhoofeJr
By Kwame Okoampa-Ahoofe, Jr., PhD
English Department, SUNY-Nassau
Garden City, New York
October 6, 2021
E-mail: [email protected]