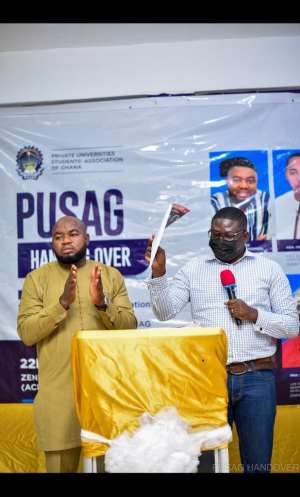 Mr. Apenu , PUSAG life patron (right) flanked by hon. Sukparu, MP for Sisala West Constituency launching the magazine
The Private Universities Students Association of Ghana (PUSAG) has launched its maiden magazine, 'PUSAG IN SCOPE.'
The launching of the magazine which took place at the auditorium of the Zenith University College in Accra on Saturday , also coincided with the handing over ceremony for new PUSAG Executives.
Launching the mouthpiece, Mr. Paul Suchman Apenu, the PUSAG Life Patron applauded the Association's Editorial Team led by Mr. Diabete Youssouf for the initiative which according to him will go a long way in helping the students body in the dissemination and propagation of its agenda.
Mr. Apenu also commended the Association for the united way in which it has conducted itself over the years.
"It is a great initiative. A very well-thoughtful approach to connect all private universities in one book. It is recommendable, kudos to the team", Mr. Apenu said.
On his part, the Editor-in-Chief chief of the magazine, Mr. Diabete Youssouf mentioned that as part of his plan to propagate the image of the Association and get closer to the ordinary private university students there was a need for such initiative.
The PUSAG IN SCOPE Chief Editor further mentioned that the mouthpiece aside the dissemination of information amongst professional university students in the country has has other the business motives , ideas and creativity.
According to him, the magazine has among other things the objectives to Get the Association closer to students, create platform for student entrepreneurs to outdoor their businesses and get easy access to the market to promote their businesses.
The PUSAG IN SCOPE magazine is to also acknowledge contribution of dedicated and hardworking senators for the past and present administrations as well as help showcase and market would be PUSAG executives to sell their ideas to delegates during elections.
The initiative was witnessed by the Alumni Convenor of the Association, Mr Adjin Isaac Bonney, the Guest of Honour and MP for Sissala West, Hon. Mohammed Adams Sukparu.
The newly elected Media Relations Officer of PUSAG , Mr. Baba Zakaria Abdallah promised to continue the initiative during his tenure of office.