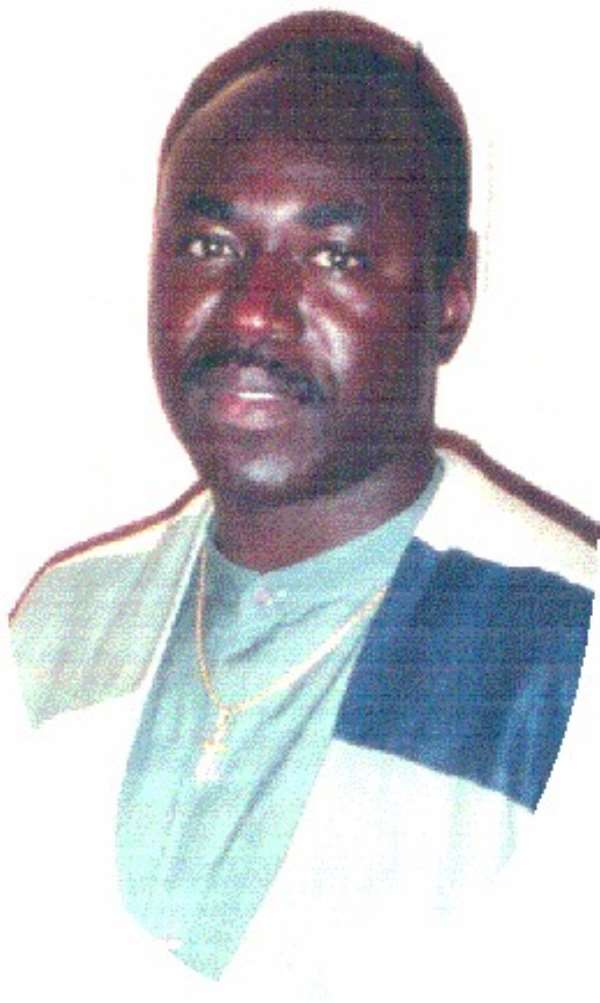 If the Kuffour administration is doing anything about the armed robbery epidemic in the country, Ghanaians are unconvinced, and they are largely unimpressed. In a discussion on Ghanaweb.com, following the tragic death of Nana Amoo (Pozzo) (pictured), many Ghanaians expressed reservations about the Ghanaian government's handling of the armed crime activities in the country. "I have always in my heart wished President Kufuor and his NPP government loads of success, but frankly, they don't seem to have a grip on the armed robbery mess currently tormenting our countrymen back home." Said Asare-Kwahu. "Who else has to die at the hands of these killing machines before the government begins to have public armed robber executions?" Although the discussion centered on the news of Pozzo's death, participants also shared similar stories of armed robbery incidents in the country. While they believed that Ghana is still relatively safe and peaceful, many were nonetheless, concerned about the escalating rates of crime in the country. They also regret that the crime-tattered reputation that the country is attaining could tarnish its 'peaceful and a safe' image. "Surely Ghana is comparatively peaceful, providing a suitable climate to attract investors (not only Ghanaians) to invest in our stumbling economy. But these sporadic terror and killings by armed robbers is very worrying." Amoateng said.
Toward that end, many cautioned the Kuffour government that the country risks repelling investors into the country, if the armed robbery issue is not highly prioritized. "The government should know if they are not already aware that investors take all this into consideration when they make decision about investment. No amount of overseas travel by the president would bring in investors if these armed robberies are not controlled." Said 'Akpokpolonte'.
Participants also alerted the authorities that it would have more than foreign investors to worry about if the armed robbery rampage persists. The government also risks alienating the many foreign nationals that it had often called upon to "to come back home to assist." Many overseas-based Ghanaians who had already made plans to either visit or resettle in Ghana also expressed apprehension about making the move to Ghana, for fear for their own safety. Roberta Osei-Wusu and her family are close friends of Pozzo's family. She and her and her husband "were planning to move back home and contribute by developing residential Real Estate." But with Pozzo's death, coupled with the barrage of armed robbery incidents in Ghana, they are having second thoughts. "It could have happened to me. I don't even want to visit. So, I'm convinced now that I will never move back home." Roberta said. She also expressed misgivings about the breakdown of services in the country, which she believes may have contributed to Pozzo's death. "A country where you cannot count on your policemen, where you cannot depend on the hospitals, where you cannot get help when there is an emergency, and where you cannot count on your government." Another friend, Anti-Ohene George had "made a couple of trips to Ghana all in hopes of potentially enhancing the lifestyles of Ghanaians." He had influenced the company he worked for in the US "to invest in information technology (IT) in Ghana and to help bridge the IT gap. I was in dialogue with a medical board to establish portable but very equipped medical clinics across the country." However, "in light of Nana's demise, who by the way, was a good friend of mine, has pushed me and others to throw in the towel. It shouldn't take another armed robbery for the government to step-in to fix this crisis; the safety of Ghana's citizens should have been primary and a priority." He acknowledged that "the government may have a lot on his plate at this very moment." He nonetheless urged the administration "to heed the concerns and fears of all Ghanaians," also cautioning that "unless something is done, we will see both our local (Ghanaians based outside of Ghana) and foreign investors pool begin to dwindle rather quickly." 'Santa' never met Nana Amoo, but he shared the general nervousness of many Ghanaians who are afraid for their own personal safety in the Ghana. He had also made advanced plans to move back to Ghana and invest in the country. "Seriously I have started to have some misgivings about coming home now. I have invested in machinery to set up Pepper Purée processing factory in Ghana, but I must confess the senseless killings and the rampant armed robbery scares the hell out of me. I have a choice to sell back my machines and enjoy my wealth in the US and rather visit Ghana and family quietly or come home as an investor and have myself attacked by armed robbers. In fact, guys over here are really scared stiff." Kwadjo Asare had a different story to tell. He actually made the move to settle in Ghana in February, following the Homecoming Summit. "I shipped some food preservation equipment, my vehicles and personal effects. I was going to settle in Ghana for good. To my plight it was a total catastrophe. In fact, at the end, I had to ship my goods back to the United States." Asare recounted his own encounter with armed robbers. "A day before my departure armed robbers who had got wind of my changing some $12,000.00 of goods, had planned to attack and steal the monies from me." He recalled that the would-be armed robbers had gone to a Communication Center in Tema where they were making calls to contact other members to set the time for their "operation."
Luckily, "the owner of the communication center happened to hear them in their telephone conversations and alerted the police. Fortunately at 10pm, five strong 'macho' men were arrested at their meeting point where they would embark on their operation. Thanks to GOD and the communications center owner, I would have been killed. So dangerous is Ghana now. This has to stop." He said. Calling the armed robbers 'local terrorist' and 'unhuman', many sought stiffer penalties, even Marshall Law to deter these criminals. Theo Aquaye branded the Kuffour government soft on dealing with armed crimes in the country, reasoning that there "is too much democracy in Ghana, and that the laws in Ghana are loose. "Criminals are not human beings and they should be eliminated from society. " He said. "Ghana needs tough laws. Unfortunately, the only solution to the armed robbery problem in Ghana is for the Government to institute Marshall Law; to deal with only armed robbers. Tribunals should be set up, bypassing the corrupt court system, to deal swiftly with the armed robbers; those who are found guilty should face the firing squad at Teshie. Believe me, once they realize death awaits them, a lot of armed robbers will be looking for a different line of work." The participants who believed that the NPP government is soft on combating crime also blamed it for allowing the crime scourge to fester. This group also claimed that the Rawlings' government was relatively successful in curbing the armed robbery menace during its term of office. "This is happening everywhere. The main problem is the government is not doing enough to stop these criminals." Said Famu. 'SON OF MAN' agreed, stating that "the NPP government of President Kuffour has other priorities than the protection of life and property in the country. Never in the history of our dear country have we had life and property come under such serious siege as under this regime." 'Prince' disagreed, charging that it was rather during Mr. Rawlings' 20-year reign that the problem escalated. "He armed his special troops to the teeth, during the 20years in office. These thugs got into business when on the urging of Rawlings to make JAK look weak. Rawlings, should get out there and order his gangs, (the robbers), to cease fire for Ghana's sake." Kodjo Osei-Tutu and Okatakyie Kwame Sarkodieh summarized the pulse of the community: "Nana Amoo's death should urge us 'those living outside Ghana' to send a strong message to President. Kuffour to sit straight and take a close look at his presidency." Osei-Tutu said. Okatakyie Kwame Sarkodieh agreed, reminding the authorities that given the significant contributions that Ghanaians abroad make toward the Ghanaian economy, the government must take their views and concerns seriously. "If the government is serious about "been-to's" contributing their widow's mite by way of encouragement and incentive, (real and strong punitive and deterrent laws have to be established to prevent and punish these armed thugs. 'Aburokyirefoo's' contribution to the Ghana economy is big and has to be safeguarded by the government." "You know what I am thinking about?" He asked. "Death on sight, death by firing squad, or life imprisonment (throw the key into the sea, feed them once daily on mango or corn and when they finally pass, may their "souls" go to hell and roast forever)."