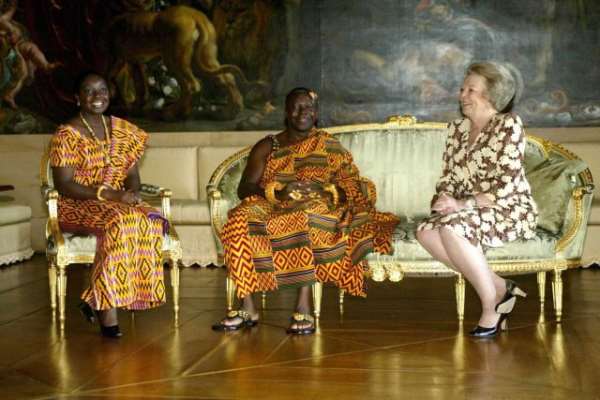 ...FOR CHOOSING ANOTHER WIFE (NANA MESERE ME KA) Not so long ago I read that Otumfuo Nana Osei Tutu II (THE KING OF KINGS) The Asantehene has taking a new wife, whilst he is still married. According to Asante tradition this is an acceptable custom. However, according to modern 'Christian' based society like ours, this is considered as an immoral act.
When Otumfuo came to power he saw the need to modernise the society in line with the rest of the world, and has deliberately set up a policy of change. This led to many of the traditional customs and practices being modernised. I am however surprised the he has let this practice remain in tact.
AS THE SAYING GOES, LEADERSHIP BY EXAMPLE.
Every young Ashanti man looks up to Nana for direction. Under the influence of modern thoughts on better living standards, we are constantly reminding our people to stay with one woman and our women to stay with one man.
If our inspirational leader is having two wives it does not speak well for us. King Solomon is wrong on this issue. A friend told me that the reason Nana took his second wife is because she can speak in English, which is useful, when he travel overseas.
If this is true, I will be very much disappointed, because after all English is not our Language and we must be proud of Asante TWI the most spoken lingo in GHANA. There are so many prominent people who do not speak English or English is not their first language, but they are respected as leaders in their own right. (for example the King of Thailand, the King of Spain, Zulu King, countries like Indonesia, China, Russia, France, Germany).
Otumfuo's reason for getting a second wife is not a good example for the people of Ghana. He ! should reconsider his decision in line with the future aims and aspirations of all of the people of Ghana and set examples accordingly.