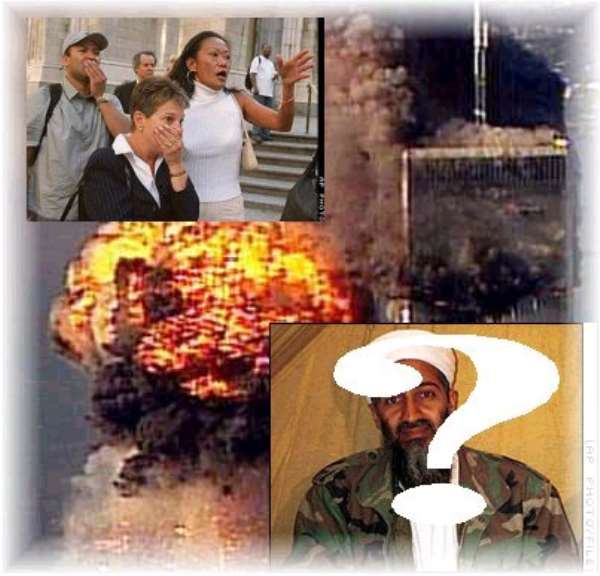 As I reflect on this day and the changes that the 9-11-01 has had on our lives, I can't help but do a little introspection, stop and ponder a little on life itself, it's fleeting nature, and why human beings do the things they do. On Sept.11, 2002, the first anniversary of perhaps the most dastardly act perpetuated in peacetime on civilians in history, the whole world must all ponder for a minute and ask Why?
Today is surely a day that will remind us always or our limited humanity, perhaps a reflection on the purpose or meaning of life, and either way a day that will live in infamy till time's end.
Today reminds us of the day the forces of evil and cynicism, The forces of intolerance of human views, and our diversity, Of man's stupidity in the worth of his own life as taught by others, Of hope in life thereafter, things unseen, when there is no hope to see. The forces of envy and jealousy, of greed and selfishness, Of power and centralism, or fear and revenge, Of ideological blindness to the pain of fellow man, All came together to remind all of us of our sheer humanity.
I have always thought that religion is man's way to the inner self. Many may define them their way. But a search for God lies not without but within, each with his own staff, his beacon of light. Religion is thus nothing to brag about, or to push others aside for. That the outer world was of clay and mud, wood, sand and stone, meant to be overcome, built and molded to satisfy man's need for comfort and for happiness. Silicon Valley, in which some of us have lived and made our livelihoods for decades, has demonstrated how ordinary sand, alias Silicon, can be used to build electronics and computers using the laws of Chemistry and Physics. Man's search for life's meaning took on a trip, the trip of science and technology.
Those nations who relied on religion alone were left behind in the search for answers of life. Being late in the discovery of Science, and hence technology, left many behind in the development of the world's resources to satisfy man's needs. It is for this reason that many still wail and mourn, waiting for some magic wand or manna from heaven, to bring economic prosperity, or reap gains not sowed.
It was for this reason, over-reliance on religion, on faith and beliefs, on things yet unseen, of ghosts and those dead and gone, and perhaps of Manna yet to fall from heaven, that our brothers in the Muslim religion or Arab world were left behind in civilizations. Africans also were left behind. They rather relied on the mystical manifestation of life. The others relied on what could be seen and smelt, in the laboratories of the cold winters of Europe and America.
At the end of 2000, a great friend from high school, a man who studied and mastered Science and Engineering to the highest level of man, passed away in New York, unable to find any meaningful application of his knowledge. He happened to be one of the two selected from among four brothers born to Muslin parents in Ashanti region of Ghana, to go to Christian School to learn the modern Science. He did well, even though society did not do well to employ his talent in this time of eternal life.
Such is life and such must every nation try to employ their people, to give them some purpose for life, a reason to live. As bad as war is, the gun has helped determined the power shifts and diatribe in the world. The gun and war, combined with Science and it's applications, has determined the power and sometimes resource distribution in the world.
As we examine and analyze why Sept. 11,2001, as we feel frustrated going through airports on trips, as we feel for the families of those lost on that tragic day, and our lives changed forever on freedoms hitherto taken for granted on American soil, I can't help but feel sorry. I feel sorry for the families of the innocent victims of 9-11. But then I feel sorry for the souls of many Arabs and Muslims, as well as many Africans, trying to find solace on this earth, but wandering in distress. I feel sorry for those who feel they have been cheated in life's equitable distribution of wealth. The weak, the hungry, the oppressed, the miserable, the poor and the desperate, all have a right to express themselves. But to die a wasteful death, to die knowing that it will not help win the war, is not the answer for those gone; neither for those remaining.
However, hope is not lost. As every nation looks around them, as well as within, they will find resources nature has created and endowed them with, by which, combined with the lessons we all have to learn, they can muster and pick themselves up.
It is for this reason I encourage our friends the Palestinians and the Israelis to stop for a minute and give up a war no side can win. The Palestinians need help, and they have to learn to negotiate, and live and let live. At the same time I remind our friends the Israelis that were it not for the older brother America, they would be in a deep doodle themselves, applying the same laws of nature, size, and human elements. As such they also have to learn to respect other people and their rights to live and survive on earth. They have to learn to let go some of some dirt acquired from nature by circumstances of fate. They have to learn to give a little, whiles they live with a smile, for a lot of Peace.
Of course big brother America will learn, as 9-11-01 taught all of us, that the world is balanced by forces higher than all of us, and we do not have to look only on one side of a coin to see it's beauty. All of mankind aspires for peace, the weak from the strong, the poor from the rich. It's simply our responsibility, of one to another, on this earth, meant for all of us. Cheers and love to all around the world, of all beliefs and faiths.