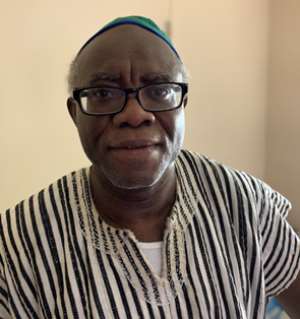 Then also, contrary to what the unsigned author of the article titled "Why This Historian Insisted That Kwame Nkrumah Was Not [a] Ghanaian" (Ghanaweb.com 9/25/21), there is absolutely no verifiable and/or forensically sustainable evidence pointing to the fact of Nkrumah's having lived or been even partially raised in Liberia for any remarkable temporal span, much less any evidence of our protagonist's having been raised by the members of any extant Liberian community in Ghana. There is also absolutely no evidence pointing to the fact of Mr. Nkrumah's having personally claimed or acquired a Liberian citizenship at any point in his lifetime. Those making the specious claim of Ghana's first postcolonial leader's having been of Liberian heritage do not even provide the slightest of evidence pointing to the Nkroful, Nzema, native son's acquisition of even an honorary Liberian citizenship in his lifetime. So, what is all this soft-headed fuss about President Nkrumah's being of Liberian descent? I mean, in our generation and lifetime, we have had such half-Liberian and half-Sierra Leonean bona fide prominent Ghanaian citizens as Justice Emile Short, Messrs. Vincent Asiseh, Harry Sawyerr and Prof. Kofi Awoonor, the latter three of whom are deceased, serve our beloved nation at the highest levels of government.
Now, is the case being made here that if Ghanaians are direly on the lookout for some of the most visionary and progressive leaders to steer our country out of the treacherous morass or shoals of gross administrative incompetence and wanton corruption, that we may very well need to look westward towards Liberia and Sierra Leone? Anyway, having "informed" us that a motherless future President Nkrumah had been born Francis Nwia Kofi Ngoloma, and that he had changed his name to Kwame Nkrumah in 1945, both the author of the afore-referenced piece being rejoined or responded to, and the purported late oral historian do not tell us precisely who the last name of "Nogonloma" referred to, since we have already been informed that Mr. Nkrumah's Liberian father was called "Mr. Kofi Nwia." Now, Dear Reader, do you realize the crass absurdity of this entire attempt to ostracize and "foreignize" Ghana's first postcolonial premier?
From what the Ghanaweb.com reporter tells us about the late Mr. Joshua Attoh Quarshie, there is every sound reason to believe that the latter was more of a hatchet man committed to the patently inglorious service of destroying the global stature, image and reputation of the admittedly very controversial and temperamentally volatile President Kwame Nkrumah, instead of any genuine and candid or objective and legitimate pursuit of the unvarnished truth about Ghana's most celebrated politician and statesman in the Twentieth Century, warts and all, notwithstanding. You see, the fact that Mr. Attoh Quarshie is described as "a founding father" of Ghana's ruling New Patriotic Party (NPP), in of itself ought to give the lie to any attempt on the part of both our oral historian and the reporter to literally pull the proverbial wool over the eyes of the academically and professionally untutored, both at home and abroad. In short, if, indeed, Nkrumah's mother was not known, as Mr. Attoh Quarshie is alleged to have claimed as recently as 2019 on Ghana's Citi-TV, then how did our "oral historian" get to know that Mr. Kwame Nkrumah was, after all, born "Francis Nwia Kofi Ngonloma"? Precisely who were present at the time of the naming or christening ceremony?
You see, those of us who have considerably studied the life and times of President Nkrumah are well aware of the fact of the latter's father having been well-known to have had several wives, including Madam Nyaniba Nkrumah or Elizabeth Nyanibah, as the late Joshua Attoh Quarshie reportedly chose to cast it. We also know that President Nkrumah's daughter by his Egyptian wife, Ms. Samia Yaba Nkrumah, was named after the latter's Ghanaian grandmother. So, what is all this nonsense about "Madam Elizabeth Nyanibah"? You may not like the man and, indeed, many of us have had occasion to thoroughly roast or lambaste his dictatorial tendencies. But at least any critic needs to show some decency by not farcically tinkering with the indelible facts pertaining to the personality and identity of Ghana's at once most celebrated and maligned leader of the Twentieth Century. Not knowing his birth mother, even hypothetically assuming this to be a factual reality, does not in any way negate or nullify the incontrovertible historicity of the nativity of the man.
He may seem to be enigmatic in certain aspects of his life and existence, but so are the lives and existences of many of the most globally renowned and celebrated mythical figures of our time and throughout the ages, including the Founder of the Christian Religion, Jesus Christ of Bethlehem and Nazareth, depending on the identity and nationality of the teller of the same. Even as Col. Emmanuel Kwasi Kotoka, the man who made the first official announcement about the military ousting of Ghana's first President, dispassionately and, some would even say, soberly declared on February 24, 1966, "The myth surrounding Kwame Nkrumah has been broken… but the man and his legacy are firmly established in the annals of our history." The post-elliptical part of the preceding quote is a paraphrase, of course, but it strikingly captures the spirit of his remarkable accomplishments which even Nkrumah's most ardent foes and inveterate detractors envisaged in the epic trajectory of their fallen leader or archnemesis.
*Visit my blog at: KwameOkoampaAhoofeJr
By Kwame Okoampa-Ahoofe, Jr., PhD
English Department, SUNY-Nassau
Garden City, New York
Sept. 28, 2021
E-mail: [email protected]