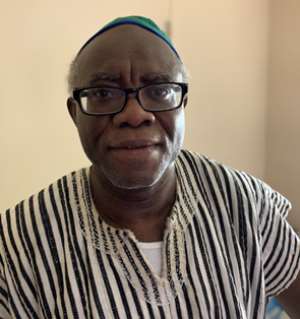 I just finished reading an article titled "Why This Historian Insisted That Kwame Nkrumah Was Not [a] Ghanaian" (Ghanaweb.com 9/25/21), and could not contain my anger, utter contempt and amusement for the anonymous reporter who claims to have been quoting from an oral historian by the name of Mr. Joshua Attoh Quarshie, a recently deceased member of Ghana's ruling New Patriotic Party (NPP) but does not provide any forensically compelling evidence to shore up the main thrust of his argument, namely, that Ghana's first postcolonial leader, Mr. Kwame Nkrumah, better known as Dr. Kwame Nkrumah or Osagyefo Dr. Kwame Nkrumah, was not a Ghanaian by either biological or genetic origins or provenance. You see, the problem that both writer and purported "Oral Historian" have here is that asserting or claiming that Kwame Nkrumah's father was a Liberian national by the name of "Mr. Kofi Nwia" is tantamount to nothing short of incontrovertible suspicion, for the simple reason that even any linguistically untutored Ghanaian citizen can readily identify the name "Kofi Nwia" to be unmistakably Ghanaian, unless both writer and historian could also prove which Liberian ethnic group or sub-nationality names its children or sons "Kofi Nwia."
Kofi Nwia clearly sounds like a name that a Ghanaian father of Nzema descent or extraction, as it were, would give to his Friday-born son. Which readily tells any critically thinking Ghanaian reader and/or citizen that whatever the national origin or identity of President Nkrumah's father might have been, there is equally every convincing reason for anybody to believe that just like the recently deceased President Jerry John Rawlings, very likely at least one of the parents of the "Liberian-descended" Elder Kofi Nwia was of bona fide Ghanaian ethnicity and citizenship. In the case of the late President Rawlings, for example, the latter's widely acknowledged Scottish paternity absolutely in no way nullified his maternal moorings or provenance. But guess what, Dear Reader? It has even just recently come to light that contrary to the widespread belief that Ms. Victoria Agbotui, Mr. Rawlings' birth mother, also recently deceased, was or had been no Anlo-Ewe at all but a bona fide Ghanaian of Akan descent and, in fact, an Akwamu royal princess who shared the same maternal roots as the current President of the Sovereign Democratic Republic of Ghana, to wit, President Addo Dankwa Akufo-Addo, a formidable political and ideological force who has been widely alleged to have at one time been in the bloody crosshairs of targeted "Enemies of the Revolution" whom the Rawlings-Tsikata diarchy avidly sought to liquidate.
You see, nobody routinely carries their genetic markers conspicuously on their visage, that is, on their face or forehead. Else, Messrs. Rawlings and Akufo-Addo would not have become the implacable lifelong enemies that they ultimately became. Mortal enemies, some would even say. As well, even if we hypothetically concede the fact of Mr. Nkrumah's officially known and acclaimed mother, Madam Elizabeth Nyanibah, as a childless or barren woman who could not have given birth to Continental Africa's foremost proponent of Pan-Africanism, still, it bears to significantly underscore the fact that absolutely none of the most ardent detractors of the legendary African Show Boy is claiming or has claimed that Kwame Nkrumah's purportedly anonymous mother may very likely have been of Liberian descent or nationality. Which is equally very significant to observe because among the Nzema people among whom the Younger Mr. Nkrumah was raised and primarily socialized, one's ethnic identity, like the rest of the Greater-Akan Community of Ghana, is unimpeachably established via one's maternity or motherhood, and not through one's paternity or fatherhood.
What is more, the Akan-speaking people constitute Ghana's most dominant ethnic polity or ethnicity. What this fact clearly and inescapably means is that it does not really matter a whit whether in welcoming the then-Prime Minister and later President Nkrumah to the Sovereign Democratic Republic of Liberia, the then-President William Tubman had greeted the globally renowned Ghanaian leader as follows: "Welcome to your fatherland." This is quite interesting because to the best of my knowledge, absolutely no Ghanaian or even Liberian of redoubtable repute has questioned the authenticity and integrity of the Liberian nationality and/or identity of President George Oppong-Weah, whose father, like the immortalized President Nkrumah, has been widely alleged to be or to have been of Ghanaian identity and nationality. Which, of course, ought to come across to us as a damn inexcusable shame at just the very moment when the entire West-African Subregion is fast moving towards an organic Diopian geographical and geopolitical unit called the West-African Union, from its confederal status as the Economic Community of West African States (ECOWAS).
*Visit my blog at: KwameOkoampaAhoofeJr
By Kwame Okoampa-Ahoofe, Jr., PhD
English Department, SUNY-Nassau
Garden City, New York
Sept. 28, 2021
E-mail: [email protected]