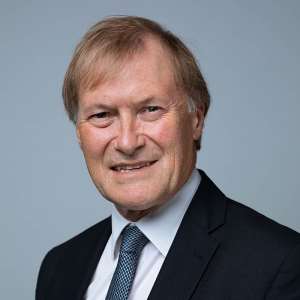 Before his murder, David Amess was chairman of an all-party parliamentary group (APPG) on Qatar, its aim "to foster good relations between the UK and the Gulf nation". Amess himself certainly has good relations with the Emirate. Until recently an obscure backbencher, he was on the day of his murder called "a great friend of Qatar".
It is not entirely clear when his relationship with Qatar started, but it certainly extends as far back as 2004 when he spent six days in Qatar as a guest of the government.
He visited again in May/June 2010, paid for by the Qatar government to the estimated value of £5,000, the ostensible purpose being to attend a "Forum on Democracy". Another visit followed in February 2018, again paid-for by the Qatar government, this time, as a member of the APPG.
That visit triggered a debate in Westminster Hall on 23 May 2018, opened by Amess. He referred to the trade "blockade" of Qatar by Saudi Arabia, the United Arab Emirates and Bahrain, joined by Egypt, the Maldives, Yemen and Libya. "over allegations of Qatari support for terrorism", with the severing of diplomatic relations.
Given the relations with the UK, though, Amess argued that it was "imperative" that ties "endure through the contemporary embargo". Our relationship with Qatar, he said, "should give us much to be confident about and serve as an example of how we are a truly global Britain".
In April 2019, Amess invited then ambassador, Yousef Al-Khater, to Southend, with a "big name business delegation", to discuss the prospect of inward investment in his constituency. This was seen as Qatar rewarding its "close British ally".
In February 2020, Amess, now vice-chair of the APPG, was back in Qatar, once more paid-for by the Qatar government. The declared purpose of the visit was to discuss the Gulf Cooperation Council crisis, workers' rights, bilateral relations and regional issues. On 10 December, the visit prompted a strong intervention from him in another Westminster Hall debate on UK Relations with Qatar.
Then, he told members that he had thought the "political and diplomatic blockade" on Qatar had been "unfair", and was "pleased that our Government have called for all sides to de-escalate and have pledged our firm commitment to our strategic partnership with the Gulf Co-operation Council".
The trip to Qatar ten months previously, he then revealed, had been "rather special". The highlight had been when the delegation had been taken to ride camels, following which the Emir had given him two camels. These had been delivered to the Amess household, where they were "grazing very nicely in our back garden". "Qatar is a magnificent country that is truly underrated", Amess opined.
MP Christina Rees, in the chair, thought this was all rather jolly, observing: "I do not think I will ever be able to forget the vision of the two camels", then asking Amess – to the laughter of members: "Shall we now call you 'Two-Camels' Amess?".
While David Amess was having such a jolly good time, Somalia - Oman's near neighbour across the Gulf of Aden – had not been having such a happy time. Having become an independent state in 1960, it has undergone continuous strife which, as the civil war intensified, brought about between 1990-92 an almost complete collapse of civil order.
It must have been about that time that a Somali national, Harbi Ali Kullane upped sticks and moved to London with his family, where his son Ali Harbi Ali was born in 1996. Harbi Ali Kullane, however, still took an active interest in Somali politics, becoming Director of Media to Omar Abdirashid Ali Sharmarke, who served as prime minister from 2009-10 and from December 2014 to March 2017 before being exiled to Kenya.
Harbi Ali Kullane's family is said to be wealthy and remains connected to Somalia's political elite. His brother, is Somalia's ambassador to China, and his sister, Samira Gaid, is head of a security think tank in Mogadishu who has also advised the government.
In Somalia, however, a new regime is in charge, headed by president Mohamed Abdullahi Farmaajo, also known as "Farmajo". Not exactly a well-known in the UK, he was prime minister of Somalia for six months, from November 2010 until June 2011, and has been president since 16 February 2017. From 8 February 2021, he has been "acting president".
Qatari money allegedly played a role in influencing the Somali elections in 2012 and 2017, according to the Middle Eastern Institute (MEI), and is said to have supported Farmajo's election and is keeping him in power.
Qatar has allegedly used the fundamentalist Islamic group al-Shabab (with links to ISIS) to target groups it has identified as opposing its interests, including Somali politicians critical of Doha's role in the country and outside actors like the United Arab Emirates. In the past, Qatar has also allegedly funded the government's attempts to remove non-cooperative leaders of Somalia's federal member states.
However, much to the frustration of opposition politicians in Somalia, Qatar's activities in Somalia have not prompted much external condemnation – according to MEI. The US and other Western governments have turned a blind eye to Doha's destabilising role, even going so far as to make it an integral part of the international community's efforts to stabilise the country.
Another thing we have learned is that Harbi Ali Kullane is no longer in a position of influence in Somalia, and has taken a rooted dislike to Farmajo. Maintaining an active Twitter account, on 18 March of this year, he he wrote: Former President Farmajo does not want any form of elections to take place in #Somalia. Not now or in the foreseeable future. His term expired on 8 Feb 2021.
On 13 April, he tweeted further on the subject: "So malice that Farmajo utterly ignores the constitutional requirement of the Upper House approval. This man is tearing down the fabrics of this recovering nation, #Somalia". This was in response to a report that Farmaajo had signed a law extending his terms of office for two years, without the approval of the Upper House of Parliament.
On April 22, Harbi Ali Kullane responded to a tweet from Ahmed Hassan, who had written: "Farmajo's feat: brought back anarchy to Mog, bred contempt for the rule of law, politicised the security forces, botched constitutional review & failed to prepare the country for elections, tried to stay beyond his term & is currently awaiting to be driven out of VS by force". To this, Harbi Ali Kullane comment was: " Makes you ponder how he is still in power?"
On 27 April, he complained: "Farmajo is buying more time in order to fulfil his cunning delusions. It should not be allowed and the wacko should be omitted ASAP from been (sic) part of #Somalia politics. With the walls caving in he turns back again to brew another fake scenario".
On 6 May, we see an accusation that Qatar is lining president Famajo's pockets, in return for an energy investment deal. Then, on 9 June, although he doesn't name him, Harbi Ali Kullane is effectively accusing Farmajo of deploying young #Somali soldiers in Tigre via #Eritrea, which he describes as an: "insurmountable national treason and should not be swept under the carpet". There should, he says, "be accountability and retribution. We want answers now".
In July Amess accepts £700-worth of hospitality and accommodation to attend the Goodwood horseracing festival, which Qatar sponsors.
On 24 September, Harbi Ali Kullane writes: "Farmajo is not Deity who determines our future. He is mentally handicap with dictatorial tendencies. Now that he is compromised lets fast forward elections. The sooner the better chance of ejecting him".
On 5 October, he writes on Twitter that: "Since the Feb 17 we have unfortunately witnessed the unhealthy direct involvement of Qatar in the Somali political arena. It is time this notorious and ill-conceived relation was eliminated and utterly diminish its influence". Amongst his complaints is that Qatar is sponsoring a president who assumes he is "here for life".
On 9 October, the All-Party Parliamentary British-Qatar Group tweets: UK Parliamentarians were de-briefed on UK talks with Taliban by @MlongdenUK following his visit to Kabul - he praised Qatar's role in assisting evacuations and warned of dire economic situation
@MlongdenUK is Martin Longden, Chargé d'Affaires of the UK Mission to Afghanistan in Doha.
On 10 October, the ILO Project Office for the State of Qatar tweets: "Today we met with 15 United Kingdom MPs during their visit in Doha. They asked pointed questions about Qatar's labour reforms, the progress and challenges". One of the photographs posed features David Amess, with colleagues, at the meeting. Amess retweets the post.
On 11 October, Amess tweets: "As chairman of @QatarAPPG I was very pleased to receive an update from @MlongdenUK regarding the situation in Afghanistan and hear about Qatar's continued effort to help British families in Afghanistan.
On 12 October, Yousef Al-Khater, former Qatar Ambassador to the UK, tweets: "Many thanks to my friends from the UK Parliament for their noble sentiments during our meeting last night, and for their congratulations on my elections as a member of Qatar's first elected Shura Council. I look forward for fruitful cooperation in the future". On the same day, Amess tweets his congratulations.
On that day, Amess's twitter account also advertises on Twitter his next constituency surgery, to take place on Friday 15 October at Belfairs Methodist Church, Leigh-on-Sea. Amess invites appointments, publishing his email address and telephone number.
On 13 October, Amess returns from Qatar. The following day, he tweets: As Chairman of @QatarAPPG, I was very pleased to meet the Emir during our recent delegation to Doha. The subject was "strategic cooperation between Qatar and Britain". Amess posts a photograph of himself and the Emir (pictured).
On 15 October, Amess attends his surgery at Belfairs Methodist Church, where he is murdered by Ali Harbi Ali, son of Harbi Ali Kullane, in what is clearly a premeditated, targeted attack. Ali had booked an appointment to meet Amess, telling staff he had taken up residence in the constituency. He had taken the train from London, where he lived, to meet the MP.
The Qatar APPG then tweeted: "The APPG is deeply saddened to report the death of its Chairman, Sir David Amess, less than 48 hours after a very successful trip to Qatar. A man of huge energy, vitality and compassion, he impressed all with his sense of humour and patriotism. He was a great friend of Qatar".
Ali Harbi Ali, meanwhile, has been arrested for the murder of Amess and is being held incommunicado, pending further investigations. Although The Times reports that, "the close ties between Sir David Amess and the Gulf state of Qatar are being investigated by police after his murder", the media in the main are focusing on Ali Harbi Ali's fundamentalist Islamic links.
Whether indeed Ali Harbi Ali has been "radicalised" and slaughtered Amess for that reason, remains to be seen. But it must be fairly reasonable to conclude that there are more than a few Somalis around who were uncomfortable with Amess's uncritical support for a Qatar government which is seen as dragging their country back into the Dark Ages.
Was Sir David Amess, member for the Southend West constituency, dabbling in things he didn't understand, and has paid the ultimate price? That also remains to be seen.