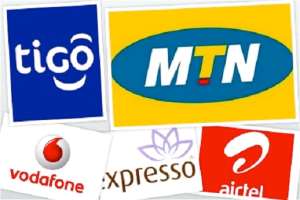 Logos of mobile telephone companies in Ghana, photo credit: Ghana media
Africa is gradually responding to the needs of the people through technology but as a developing continent, the cost of services provided by mobile telephone companies is too high. Ghana is included.
Ghana as a developing country pursuing its own path of development, the mobile telephone companies must operate on certain factors to make things better and easier for subscribers or users, due to economic difficulties and geographical locations of the people.
Ghanaians often buy data packets that are only a few megabytes in size at a time, which makes local and international communication extremely difficult for poor people. As soon as one runs out of credit you are forced to buy a new one whether you have the means or not.
I am not saying mobile telephone users are not obliged to buy new credits for their phones but the reality is Ghanaians mobile users shouldn't be forced to refill their phone before using 'WhatsApp.'
'WhatsApp' is a free tool one can receive or make local or international calls with it. Many people in developing and developed countries use prepaid cell phones until the minutes they have purchased run out but they can still make a free call with 'Whatsapp' before they decide to refill their phones.
Recently, someone called me from Ghana on' WhatsApp,' suddenly, his voice disappeared, when I called back, he told me that happened because he ran short of credit to continue the call. This is ridiculous.
I am using a Lyca prepaid mobile phone for years and buys credit anytime I want. In fact, for over two months now I haven't filled it yet with new credit. Even though I have no credit, I still use the same phone through 'WhatsApp' to call anyone I want to speak to without communication cut.
So I don't understand why Ghanaian mobile companies are using a free mobile tool as 'WhatsApp' to force their customers to buy compulsory credit. You don't have to have credit before calling on 'WhatsApp.' I don't get it.
Whatever the conditions or rules concerning the usage of mobile telephones in Ghana, as a developing country, mobile companies should create a friendly atmosphere for their users, at least to use 'WhatsApp' for about a week or fortnight before refilling a new credit. This is understandable.
In a country that many are unemployed, buying credit for phones is not easy, this is one of the reasons 'Whatsapp' and other free telephone services such as 'Viber,' were established and the truth is users can use both free tools with or without credit.