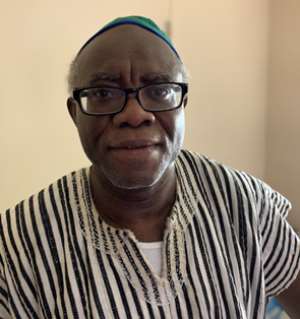 It would be inexcusably absurd for any individual or group of individuals among the membership of the ruling New Patriotic Party (NPP) to suppose that Vice-President Mahamudu Bawumia would consent to becoming the Vice-Presidential Running-Mate of the then-Candidate Addo Dankwa Akufo-Addo for three consecutive electoral seasons only to end up as what the democratically ousted former President John "Akonfem-SADA" Dramani Mahama once described as the morally and politically despicable status of a "Presidential Spare-Tire." Which is why it ought to come as downrightly crass absurdity that the group calling itself Concerned Northern Grassroots of the New Patriotic Party (CNG-NPP) must be aptly perceived as a bunch of mentally retarded and clinically unconscionable traitors who have likely been palm-greased or paid by some moles of Kwame Gonja to create confusion and instability among the rank-and-file membership of the ruling party (See "NPP Group Condemns Endorsement of Bawumia for 2024 Elections" Modernghana.com 9/8/21).
Of course, this is not the very first time that we are hearing about any such group of party poopers and nation-wreckers from the North attempting to mischievously and disingenuously sabotage the steady and progressive national development agenda auspiciously and opportunely initiated by both President Addo Dankwa Akufo-Addo and Vice-President Mahamudu Bawumia. We hereby serve notice to these stomach-thinking traitors and nation-wreckers that there will be absolutely no brooking of any dastardly attempt to take Ghana back to the Old Stone Age Order of the Mahama tenure, when Dumsor and virtual national industrial stasis, and socioeconomic standstill, was the modus operandi and the overwhelming majority of Ghanaian youths and the citizenry at large had absolutely no worthwhile opportunity to clamber out of grinding poverty, while a culturally and politically elitist President Mahama imperiously lorded over the rest of us like a snub-nosed Arab sheikh, with his robber-baron scam-artists of the so-called National Democratic Congress looting establishment grabbing the contents of our National Treasury, left and right, a la Alfred Agbesi Woyome style.
No, we will not stand idly and stolidly by while any group of payola-soliciting scam-artists unconscionably parading in the specious guise of "Concerned Northern Grassroots of the New Patriotic Party" myopically and selfishly used any Articles of the party's Constitution to criminally stifle and stymie the salutary national development agenda set by Messrs. Akufo-Addo and Bawumia with, of course, the staunch and progressive membership of the New Patriotic Party Down South and, remarkably, Up-North as well. Then again, who said that the mere fact that Alhaji Bawumia hails from one of the so-called Five Northern Regions automatically authorizes the members of the so-called Concerned Northern Grassroots of the New Patriotic Party to arbitrarily determine his political future or destiny in the leadup to the 2024 Presidential Election, while the overwhelming majority of the NPP membership distributed across the other equally significant 11 regions of the country sat duck and mum for a bunch of grossly misguided, relatively poorly educated and pathologically divisive ethnic chauvinists and tribal nationalists held the rest of us, bona fide Ghanaian citizens, hostage or to ransom.
We have gone down this proverbial primrose path before, witnessed this kind of barbaric nation-wrecking scam-artistry and the criminal arrest of our national development agenda, when the Rawlings-Tsikata Gang of Trokosi Nationalists opportunistically exploited the ignorance and naivety of some low-ranked enlisted northern-descended men of the Ghana Armed Forces (GAF), among them Corporal Matthew Adabuga, Sergeant Daniel Alolga Akatapore, and equally grossly misguided northern-descended wet-eared adventurists like Mr. Christopher Atim to nihilistically overthrow the popularly and democratically elected government of the Dr. Hilla "Babini" Limann-led People's National Party (PNP). The recently reported summary suspension of the three polling station executives from the Savelugu Constituency who are alleged to have attempted to sabotage the steady progress of the party and the inevitable 2024 Presidential Candidacy of Vice-President Mahamudu Bawumia is a laudable step in the right direction.
Maybe these grossly misguided scalawags need to be told in crystal-clear terms that Eleventh-Hour Quitters do not winsome Presidential Candidates make. As well, these clinically mental basket cases need to be unmistakably informed that under absolutely no circumstances would Candidate John "Akonfem-SADA-Kanazoe" Dramani Mahama be allowed to use his trite and jaded "Presidential Spare-Tire" mantra to fight his bloody way back into Jubilee House. We have come much too far towards the biblical Promised Land to unwisely reverse course midstream.
*Visit my blog at: KwameOkoampaAhoofeJr
By Kwame Okoampa-Ahoofe, Jr., PhD.
English Department, SUNY-Nassau
Garden City, New York
September 8, 2021
E-mail: [email protected]