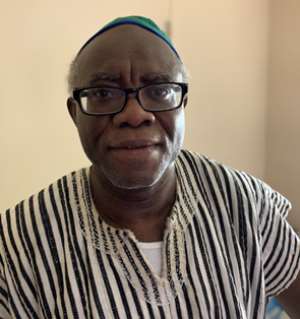 He has been beaten at least twice very badly in the polls. So, it is rather risible for Mr. John "European Airbus Payola" Dramani Mahama to be bitterly griping that, somehow, on the two occasions that he was mauled flat-out by the then-Candidate Addo Dankwa Akufo-Addo, he had been robbed naked and silly at the polls, largely because polling agents and observers from his party, the National Democratic Congress (NDC), had not been vigilant enough. This new strategy that is being adopted by the man whose very regional identity was so purposefully and progressively changed by the man he claims to have been cheated by, to wit, the now-President Addo Dankwa Akufo-Addo, was actually the one whom the dynastic General-Secretary of Mr. Mahama's own party, namely, Mr. Johnson Asiedu-Nketia, publicly alleged in the wake of the 2012 Presidential Election had won that year's polls, hands down, but had had his widely acknowledged victory flagrantly snatched from him by Dr. Kwadwo Afari-Gyan, the extant Chairman of the Electoral Commission, primarily because the polling agents, observers and assigns representing the then-Candidate Akufo-Addo had not been vigilant enough.
I have written reams of articles and columns about this landmark Asiedu-Nketia declaration of Election 2012 in favor of Nana Akufo-Addo and therefore find it to be absolutely needless to reprise the same here. But there is something scandalous about the man who served in the ministerial capacity of Deputy and then substantive Communications Minister under the 8-year tenure of the late President Jerry John Rawlings and was nicknamed the "Shit-Bomber" at the time that bears recalling here for the instructive benefit of those of our readers who might have been too young to appreciate or even remember. Which is the fact that it should have taken a hopelessly defeated Kwame Gonja, as Mr. Mahama is also sometimes known and called, to have come to the sobering conclusion that, indeed, elections and, in particular Presidential Elections, in Ghana, are routinely won and lost at the polling station and not in the courtroom, as the politically punch-drunk Bole-Bamboi, Gonja-West, native cavalierly supposed he could do in the wake of his seismic defeat by a half-million votes in the 2020 Presidential Election.
There is something scandalously peevish here because it was as far back as 2013, that is, some 8 years ago, during the Justice William Atuguba-presided Supreme Court Panel that equally scandalously adjudicated the Akufo-Addo-, Bawumia- and Obetsebi-Lamptey-led 2012 Presidential-Election Petition, when the Presiding Judge, Mr. William Atuguba, the fellow northerner of the then Presidential Incumbent, disdainfully declared that "Elections are won and lost at the polling station and not in the courtroom." It is quite obvious that the man for whom Justice Atuguba so unconscionably threw Election 2012 unethically in favor of, by the quite reliable and even authoritative lights of Mr. Johnson Asiedu-Nketia, had not been paying attention, apparently because Kwame Gonja had been too giddy celebrating an electoral victory he had not really deserved because he had not really won the same. Ghanaians would even later learn from a Ford Foundation-funded Nigerian scholar that, indeed, the Atuguba-presided Supreme Court Adjudicators of the Akufo-Addo-led 2012 Presidential-Election Petition had spent roughly 9 months sitting on the petition, because these Apex Court Jurists were trying to figure out how to award a patently undeserved presidential-election victory to the Interim Incumbent who had actually lost the election.
In retrospect, Justice Atuguba had not really done any favor to his regional homeboy at all; he had had only unwisely gifted a petty tribal chieftain the oversized raiment of a Paramount Chief or King. It was only a matter of time before the "unclotheable" nudity of Kwame Gonja became public knowledge and a hideous eyesore, with the woeful inability of the "inscrutably enstooled" former Presidential Spare-Tire of the late President John Evans "Tarkwa-Atta" Mills, whose seismically mysterious passing Kwame Gonja has still yet to candidly level up with the Ghanaian people, 9 protracted years on. You see, the real problem with Kwame Gonja is that the most grossly incompetent Ghanaian citizen to have acceded to the Presidency has absolutely no viable legs to stand on or predicate his desperate battle for a return to Jubilee House or the Presidency. What of Four-and-Half Years of Dumsor, the 2014 nationally embarrassing outbreak of Cholera, a common hygiene problem, and Kwame Gonja's insistently vociferous declaration that a Fee-Free Senior High School Policy Initiative could not be implemented in Ghana, because it had been tried in a host of other African countries and miserably failed?
This, more than anything else, amply and authoritatively explains why the payola-prone and miserably failed former President has lunatically resorted to the beating of war drums in the runup to the 2024 Presidential Election, in hopes that by so doing he would be able to intimidate a huge swathe of the half-million Ghanaian voters who put "The Little Man from Kyebi" into Jubilee House for the second time recently. Which was also the reason why in the runup to the 2020 Presidential Election, His Majesty, The Asantehene, Otumfuo Osei-Tutu, II, was widely reported to have admonished Kwame Gonja to explain to Ghanaian voters precisely why he wanted to be returned to the Presidency. Which is also why Mr. Manasseh Azure Awuni places his index finger right on the money, as it were, when the renowned investigative journalist poignantly observes that a "Do-or-Die" war chant for Election 2024 could only mean one thing and one thing only: "The idiotic expression" of a miserably and an epically failed megalomaniacal politician (See "Your 'Do-or-Die' Is a War Chant to the Average Fanatic – Manasseh to Mahama" Ghanaweb.com 9/9/21).
*Visit my blog at: KwameOkoampaAhoofeJr
By Kwame Okoampa-Ahoofe, Jr., PhD
English Department, SUNY-Nassau
Garden City, New York
Sept. 10, 2021
E-mail: [email protected]