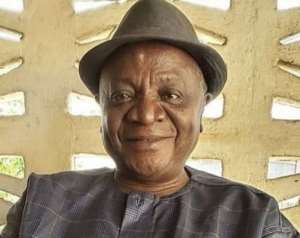 When death comes calling, literally speaking, everything that has been rigged up or scheduled to go wrong does often go wrong. And there was clearly absolutely no exception to the concatenation of events or set of circumstances that culminated in the final exit of Storytelling Highlife King Daasebre Nana Kwame Ampadu, I, of Kwahu-Obo and Akyem-Kukurantumi. Amidst all the apparently facile blame game, what was not being honestly let on to the general public by a couple of the bereaved who claimed to have been closest to the deceased protagonist of this column was the telling finality of the fact, as I would shortly learn from my wife and from other reliable media sources, was the fact that Nana P S K Ampadu had allegedly been comatose or been literally frozen in suspended animation for some 11 months, that is, approximately a year, prior to his seismic passing.
You see, there are a variety of stages of coma or comatose stages. My own beloved mother lapsed into a coma for quite a considerable while prior to her quietus or final exit on March 26, 1998. She perfectly appeared to be wide awake, alert and conscious but she was clinically comatose, I would learn later from one of my siblings who had been retailed the same by the old lady's doctors. Now, I don't know what the specific case scenario of the globally celebrated Maestro, at least in the African World, might have been. However, if it turns out to be true that, indeed, Nana Kwame Ampadu had been comatose for practically one year, then, of course, there clearly appears to have been absolutely nothing that the operatives of the allegedly extremely incompetent staff of the Ghana National Ambulance System (NAS) could have done to save the obviously dying man.
At 76 years old, Nana Ampadu was roughly 15 years above the life-expectancy range of the average adult-male Ghanaian citizen. Which, by the way, is still the highest of its kind in the West-African Subregion. In other words, biblically speaking, Nana Ampadu was existentially in the Grace Period of his life. Why is also why as excruciatingly painful as the announcement of his final exit must have come to us all, nevertheless, it was meant and bound to happen or occur at the time that it did. It was temporally inevitable. The widely alleged rudeness of the doctor on night duty at the Achimota Hospital, who is widely reported to have literally cursed out the relatives of a dying Nana Ampadu who had been ferried there, for rousing him out of his delicious and most nourishing sleep at such an ungodly hour, could most likely not have done nearly enough to save the life of the Maestro. It also ought to be clear to those of the dead man's relatives who have been blaming Dr. Rude – not his real name, of course – for callously letting their patriarch and such an invaluable national treasure and human cultural institution die such a painful death that that which has been predestined to happen in the realm of humanity cannot not averted. Not by hook or crook, nor Hell or highwater.
For all the rest of us, that is, the interested general public, may care to know, Dr. Rude most probably did not have the ready and necessary tools or equipment to save the life of this great man. Dr. Rude was simply not destined to do so, in my well-considered opinion. Which explains precisely why he was so deep and fast asleep when he was supposed to have been wide awake and alertly on-call to save the lives of critically ill patients like Daasebre Kwame Ampadu. He cannot absolutely be made the scapegoat of any aggrieved or disgruntled citizens or relatives of the deceased. Death, in classical Shakespearean parlance, will come when it will come. As well, the widespread accusation that the Nana Akufo-Addo-imported ambulance that was sent a distress and/or emergency call came to the assistance of the dying Daasebre Nana P S K Ampadu rather unduly late and may very well have contributed to the purportedly avoidable death of the Storytelling Highlife Maestro must, at best, be envisaged with the utmost of skepticism.
Still, it ought to come as quite a bit consoling that under the stewardship of Kwame Gonja, that is, former President John "Akonfem-Kanazoe" Dramani Mahama, the flatbed or bucket of a mini pickup truck would have had to be called in to ferry the dying composer of "Obra," arguably his most famous and celebrated song and Highlife staple, after the signature "Yaa Amponsaa" tune, to the hospital. Of course, what the preceding scenario or striking case in point vividly recalls is the final moments of a dying former Vice-President Paa Kwesi Bekoe Amissah-Arthur. The latter's own widow, Mrs. Matilda Amissah-Arthur, has vehemently, fiercely and publicly denied it, but the glaring and incontrovertible fact still stands that a dying former Vice-President Amissah-Arthur was ferried to the nearby 37th Military Hospital from the Gymnasium of the Ghana Armed Forces, where the democratically ousted presidential second-bananas had gone to do his routine daily early morning fitness exercises, in the freezer-cold and stark bucket of a mini pickup truck and not a first-rate ambulance, as has been widely reported to have been the equally tragic case of Daasebre Nana Kwame Ampadu.
Notwithstanding the fact that the aforesaid ambulance was very late in arriving at the Ampadu residence, the dying man was still afforded the highly remarkable modicum of dignity that had been denied a dying former Vice-President Amissah-Arthur, largely the direct result of the condign legacy of the latter's own gross administrative incompetence and abject lack of the requisite sense of patriotism and self-respect, together with his former immediate boss, that is, the murderously enigmatic Kwame Gonja of Bole-Bamboi, of course. Interestingly, yours truly has recently come under torrents of accusations of ethnic chauvinism for literally daring to call a spade a spade. It is almost as if calling The Asantehene, His Majesty, Otumfuo Osei-Tutu, II, "Kwaku Asante Duah," his pre-regius nomenclatural signifier, would be tantamount to inexcusably demeaning or degrading the most powerful postcolonial Ghanaian monarch.
*Visit my blog at: KwameOkoampaAhoofeJr
By Kwame Okoampa-Ahoofe, Jr., PhD
English Department, SUNY-Nassau
Garden City, New York
Oct. 2, 2021
E-mail: [email protected]