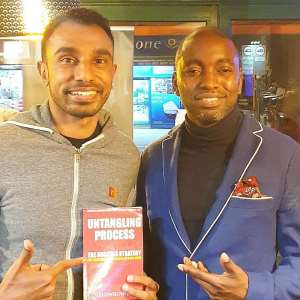 Author, Speaker, Multi-talented personality and entrepreneur Ludwig Nii Jr was part of the Ghanaian Influencer in the UK who attend the Tanzanian App Nala Money's private evening in London as it expands to Ghana. Ludwig later had a calling on his radio show in London in which Ghanaian embraced the technology to send money home using an African company namely Nala Money.
Ludwig Nii Jr also gave founder of Nala Money Benjamin Fernandes, a copy of his book, spoke and gave some insights from his book the Untangling Process, a book for those who are interested in starting a business or investing in Ghana
The Ghanaians in attendance were very happy with the product and were already sharing it with their families in UK and Ghana on the night.