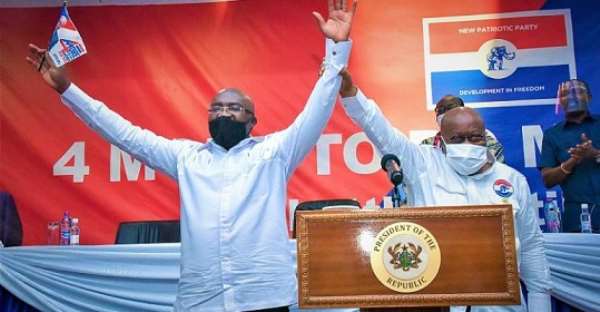 Understanding and measuring political leadership is complex. This is especially so when we approach this with varying individual mindsets, viewpoints, perspectives and idiosyncrasies. Agreed, we all have ideals of what makes a leader good or bad but they are often subjective, complex and sometimes contradictory. Is success in political leadership just about skills, morality, commitment, focus or just getting the 'right' things done? These 'right' things, yet utterly subjective, guide us in determining judgment on them - to say they have succeeded or failed. Again, why do some leaders fail and others succeed? How does "leadership capital" or "stock" of appointee determine his success or failure? The posers are therefore many!
By "leadership capital", I mean a measure of the extent to which political office-holders can effectively attain and wield authority. It can be about trust, network, and 'moral' or ethical reputation. The measure of a leader's skills refers to the required leadership abilities, from the communicative to the managerial and cognitive. Does the leader know what to do as a leader? Does he have vision and good understanding of what to do? If he does, does he have the required skills and political will to do same? Capacity of a leader, in all its ramifications, goes a long way in determining his eventual stock and delivery. Since no leader actually has all the required stock in place, how one manages his or her limited stock matters and impacts on leadership quality. The strength of a leader's vision, the methods he employs in driving the vision, his communication and ensuing goodwill/popularity, all add up. At the end of the day, it's the people that determine how successful or otherwise, a leader is.
The critical question as I mark the 58th birthday and 13th anniversary of Vice President Bawumia's leadership is: Has he succeeded as running mate /Vice President? By this, I try to evaluate his political leadership capital, his application of this in his service delivery as running mate, and now as Vice President. Having put my stock assessment effort in context, it has become easier arriving at an answer to the question – Has 'Walewale Adams Smith' succeeded as a leader of the Economic Management Team? Yes. He has succeeded. This is my honest answer.
As we all know, a very critical index for accessing success of a leader is his vision. What is the big picture he has set out for? Dr. Bawumia has a clear vision and thorough understanding of his mandate as a Vice President. He has remained focused, loyal, and committed to his Nana Akufo-Addo's agenda of digitizing the Ghanaian economy to alleviate the sufferings of the people. He has equally applied the right leadership style and judiciously applied his limited stock in governance (as all leaders only have a limited 'stock'). Some leaders have great communication skills and popularity, but not the vision. Many other leaders are also known have vision but lack all other leadership skills. Dr. Bawumia is a visionary leader with enviable leadership skills.
In this celebrative piece, I shall not be able to chronicle Dr. Bawumia's achievements in these thirteen years of his political journey. However, his performance in the area of ICT and human capital development in the country stand him out as "the face of economic digitization" in Ghana. I shall touch on a few of these, well enough to substantiate my view (and the view of large majority of Ghanaian people) that Dr. Bawumia has done so well in the past thirteen years as Running mate/Vice President.
Many have often argued that depending on google map to develop 'Asaase GPS' by government is not an achievement. It is standard and calls for no mention as achievement. They argue that without Ghana Post GPS Ghanaians can still find their ways around unconditionally. What is shocking is that they still rely on same for help.
It is common knowledge that doing busines at the Port, Passport Office and the Registrar General was not very friendly. The benevolent introduction of paperless system is a show of commitment to the people's welfare; a mark of love and care on the part of 'Walewale Mark Zuckerberg'. The spiral effect of this welfare package goes a long way in eliminating human factor in doing business. It remains "a clear demonstration of exceptional leadership, discipline, efficiency and humanity to the suffering masses.
Dr. Bawumia has developed and pursued an efficient economic blueprint for the Country. Infrastructures have been upgraded and incentives given to critical sectors to reengineer entrepreneurship and boost the Country's economy.
There is also an empowerment scheme the Vice President has introduced that puts him ahead of his peers. This scheme brings development and empowerment to the youth, as wanted by the youth for the youth.
Leadership has a lot to do with relationship management and public relations. Good leaders, through their leadership styles, garner support and goodwill from the public, their colleagues and political party. Dr. Bawumia's leadership acumen has led to countless endorsements from all sectors of the populace. Avalanche of unsolicited endorsements to succeed Akufo-Addo! It is, therefore, not outlandish to say that Dr. Bawumia has an unprecedented goodwill and support.
No other Vice President of Ghana has ever enjoyed commensurate goodwill in the history of the New Patriotic Party internal politics. 'Adams Smith' has, through his leadership style, built for himself a charismatic persona of a humble, unassuming, godly, kind and god-fearing. His rare leadership achievements are made possible through quiet, technocratic competence and service delivery.
Experts hold that "leadership is continually judged by reputation. Leaders create their own performance measurements" – have they done what they promised? Each type of leadership claim sets up its own performance test. To what extent can the people trust Dr. Bawumia to deliver on his promises in future? To a great extent! He has so far delivered on whatever he was tasked to do and even done more. Successful leaders, like Dr. Bawumia, communicate, achieve aims, and strengthen relations and reputation. Failing leaders poorly communicate or never map out a vision, then often lose confidence, control, and credit.
However, with all the accolades coming from all sections of the populace, Dr. Bawumia does not take glory for his achievements. He gives all the glory to God, and his Boss (Addo Show Boy).
"Ghana is in the hands of God", his most popular saying, demonstrates his unending gratitude to God for his achievements. Dr. Bawumia is not just a religious man but a godly man. He is a kind man, very humble and unassuming. His kindness radiates "everywhere" and on "everyone". God has used Dr. Bawumia, a great leader, to bless the people of Ghana. Dr. Bawumia is a great and intelligent leader who is interested in results and whose leadership qualities have triggered socio-economic development and impacted positively on the people of Ghana. His uncommon leadership skills anchored on clear vision, humility, good governance and respect for everyone irrespective of political leanings, equity, fair play and justice.
So, to say that Dr. Dr. Mahammudu Bawumia deserves to lead the New Patriotic Party is to say the obvious. This is, without disrespect for the opposition forces and our democracy. This assertion is empirical. After all, performance is measurable - capturing both quantitative data and qualitative assessments. I have defined his leadership capital as an aggregate of three leadership components: his skills, relations, and reputation. These shall definitely have impact on NPP Delegates when they queue to cast their ballot come 2023 flagbearer elections. The avalanche of unsolicited support and endorsements for Dr. Bawumia, who has not even declared his intention to contest for flagbearership point to the direction NPP is headed in 2023. Dr. Bawumia, has become a mass movement of the people - traders, civil servants, youths, students, the clergy and their lay faithful, and his party members alike.
As I celebrate Dr. Bawumia as a notable democrat whose responsive and transformational pattern of leadership positively affects the lives of the people. As the peoples' Veep, you have made a mark for yourself, by shunning the convenient highway of political acceptability and opting to spend more time with the good people of Ghana, listening to their hopes and aspirations, and attending to their everyday needs.
As my people say, "there is no vacancy in the "Lion Building" in 2023. Dr. Bawumia remains the people's choice.