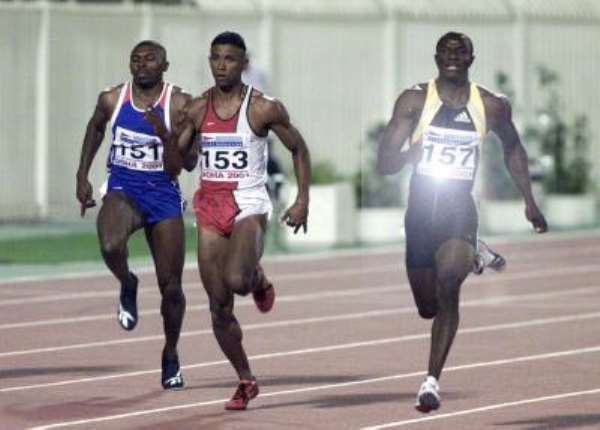 Ghana's Aziz Zakari will run the 100 metre men race at the Prefontaine Classic IAAF Grand Prix meeting. World record-holder Maurice Greene will miss the men's sprint.
Greene, who recently signed a sponsorship deal with adidas, will not compete in the largely Nike-backed Prefontaine, where in 1998 he clocked a wind-aided 9.79sec -- precursor to his world record in that same time the following year in Athens.
Instead, Olympic relay gold medallist Tim Montgomery heads a men's 100m field that also includes veteran Jon Drummond, Kim Collins of St. Kitts and Ghana's Aziz Zakari, as well as Americans Bernard Williams and Coby Miller -- battling back from a career threatening broken leg suffered last year.
Montgomery, 27, captured his first US national 100m title at Eugene's Hayward Field last year -- when Greene didn't race the final -- and was second to Greene at the World Championships.
"For him not to be in the race is very, very painful," Montgomery said of Greene. "It really hurts for him not to be here. It's one of the biggest events that's going to be watched this weekend, and everywhere I go it's like 'Is Maurice in the race?' and when I go 'No' it's 'Awwww ... .'"
Despite the absence of Greene to push him, Montgomery said he believes that on Sunday he can improve on on the fastest wind-legal time ever on US soil, the 9.84 by Canada's Donovan Bailey in 1996.
"I know I can run 9.8-low at Pre," he said.
Olympic champion Marion Jones will run her first 100 metre race of the season on Sunday when she heads the field at the Prefontaine Classic IAAF Grand Prix meeting.
Jones, making her fifth appearance at the IAAF Grand Prix meet, has never lost at the Pre Classic, twice winning the 100m, twice the 200m and twice the long jump.
In the past four years, Jones has won gold in the 100m and 200m at the 2002 Sydney Olympics, and was World Champion at 100m in 1999 and at 200m in 2001.
Her defeat in the 2001 World Championships 100m final -- where she was second to Ukrainian Zhanna Pintusevich -- was one of the biggest upsets of the year in sports. But Jones bounced back with Golden League victories in Zurich and Brussels and at the Goodwill Games.
On Sunday, Jones is expected to face a field including Olympic bronze medalist Tayna Lawrence of Jamaica, American Latasha Jenkins and Savatheda Fynes of the Bahamas as well as 1999 200m world champion Inger Miller.
Earlier this season Jones won a 400m at the Mt. SAC Relays in Walnut California and anchored a US team to victory in the 4 x 400m relay at the Penn Relays.
Also competing Sunday with one eye on the record books is Olympic and world pole vault champion Stacy Dragila, who is aiming for a world record height of 4.88m.
Dragila set the world record, 4.81m, last June at Stanford, California, but hopes to crack a significant barrier, 16 feet in American measurements, and soon.
"If the weather is good, anything is possible," Dragila said.