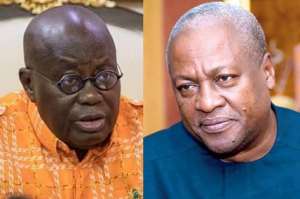 President Nana Akufo Addo and the former Ghanaian leader, John Mahama
I don't defend African or Ghanaian leaders and certainly, I will not dispute the fact they are not corrupt. It's not a secret anymore that the majority of Africans are inspired to join politics just to amass wealth.
However, I need to make some points clear that we can't continue to blame our leaders alone for the difficulties the common people in our country face each day in their normal lives.
Ghanaians quickly see that one common factor which has affected the country's development, causing a high rate of unemployment, is the chronic corruption in the political history of Ghana but why do many refuses to talk about external factors that for decades continue to destabilize our economies?
Do Ghanaians know that African countries are not ruled alone by African leaders but also by foreign governments and organizations? On October 3, 2019, ModernGhana published one of my articles entitled "How Foreign Powers Rule Africa With African Leaders At The Same Time."
In Ghana are people, I can't tell whether they are black or white, including one whose parents named him "tekonline," when he was born, that often attack me whenever I write about the deliberate spread of diseases such as HIV, Aids, Ebola, tuberculosis in Africa, just to retard the progress of the continent.
I am not surprised about people such as "tekonline," living among us today, calling articles people write false because I have lived in Europe to see that Europe and America hire journalists to write false health articles about certain diseases because that false information had already been made available on the websites of the World Health Organization and the Centers for Disease Control.
Today, I have provided a video clip which I want every Ghanaian to listen carefully from the beginning to the end to understand what I have previously told them about or what the late scientist Johan van Dongen, once a columnist at ModernGhana did write about and also came under attack.
Sitting around the table discussing how Africa needs to be depopulated because they are worthless
After listening to the video, I believe that the Vice-president, Mahamudu Bawumia, will understand the reason both the late scientist Johan van Dongen and I were angry with him the day he spoke about his contact with Bill Gates.
Who loves Africa so much that they are prepared to sacrifice their lives to get rid of every disease from the continent when they are responsible for the same diseases apart from malaria?
I have said late scientist and micro-surgeon Johan van Dongen twice in this article because the former professor at the Maastricht University in the Netherlands, for more than two years battling against cancer, passed away on June 20, 2021, at the Hospice in Mechelen.
Reference: It is with our deepest sorrow to announce the death of our beloved Dutch scientist Johan van Dongen - https://bit.ly/3mzvI7B.
Conclusion: Before Africa will be a successful continent for the people to enjoy the fruits of the land, African leaders must stop depending on foreign countries, as the Nation of Islam leader, Louis Farrakhan said, "Everything is right under your feet."
Also, loans are baits doing more harm to Africa than good because they rob the chances of developments in Africa since it takes years to pay these heavy loans, therefore, it must be reduced.
Finally, on social media and news platforms, we must get rid of certain people living among us as wolves in sheep's clothing preventing the truth to get to our people in Africa.
I have posted this video for everyone to know the truth, however, I can't tell you how long it will be on ModernGhana because the developed countries hate the truth about crimes they commit against humanity in Africa.