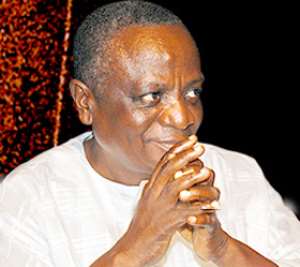 Had he not proudly wanted his Okyeman ethnicity or Akyem-Abuakwa subethnicity and/or cultural identity revealed and made known to the general Ghanaian public and the global community at large, to be certain, the recently transitioned acclaimed King of Highlife, Daasebre Nana P S K Ampadu, I, would not have so openly and happily disclosed the same to Mr. Kofi Adoma Nwanwani of Kofi-TV fame or, as some of his most ardent critics and detractors might even say, notoriety. And yet, when in the very first installment of this serialized tribute yours truly highlighted the preceding self-revelation by The King of Highlife himself, the couple of comments that that first installment of this tribute received was, predictably, by the way, that, somehow, yours truly was ignominiously and divisively attempting to "tribalize" the genetic provenance or moorings of a great and genius composer, musician and wit who lived most of his very influential and culturally prolific life simply as a bona fide Ghanaian citizen and a patriot and absolutely nothing else.
Well, I find such gratuitous criticism, actually gratuitous personal attack, to be totally devoid of merit, patently absurd and inexcusably preposterous. For even long before The Daasebre – May Divine Providence Perfectly Rest His Spirit and His Soul – made his Akyem-Abuakwa ethnicity or subethnicity publicly known to the global Ghanaian community and, to be certain, the international community at large, Nana Kwame Ampadu was universally known and acclaimed as a genius Ghanaian Highlife musician of Okwawu (or Kwahu) ethnicity or extraction, the term that is most commonly used in Ghana. There is this asinine hypocrisy among Ghanaians, in general, that nauseates me in no small measure; that is, this weird notion that, somehow, the ethnicity and cultural identity of the most successful Ghanaian citizens ought to be equally and unreservedly shared by all the groups of people cobbled together by our erstwhile British colonial imperialists, first, into The Gold Coast Colony, The Asante Federation and then The Northern Territories; and then, finally, The Greater Gold Coast Colony, encompassing all the aforementioned three colonial territories and, presently, the Sovereign Democratic Republic of Ghana.
Actually, what I really meant to say was that there is this proprietary and/or entitlement arrogance that makes some Ghanaians think and believe that credit for the great and admirable and/or laudable cross-ethnic contributions and achievements of the most talented Ghanaian citizens among us ought to be equally shared by all who live within the geopolitical bounds of what we presently call Ghana or the Sovereign Democratic Republic of Ghana, even when the makers of these remarkable contributions to our collective national identity also equally prefer to be known and recognized by their other nationally recognized peculiarities and particularities of their ancestral identities such as, in the case of the recently transitioned Daasebre Nana P S K Ampadu, the latter's widely presumed subethnic identity as an Okwawu or Kwahu native and, towards the very end of his life, an Akyemkwaa of Kukurantumi and Akyem-Abuakwa subethnicity. Don't get me wrong, Dear Reader, I perfectly understand the patently social construct and politically and functional fluidity that is ethnicity. I also perfectly recognize the deleterious and essentialistic use of ethnicity as a weapon of supremacist oppression and repression of those designated as sociopolitical and cultural "Other" in Ghanaian society.
Seismically revealing to the journalistically ubiquitous Mr. Kofi Adoma, of Kofi-TV fame, that he was, indeed, at least as much of an Okyemanba or Okyeman native and an unimpeachable drinker from the very source of the Birem River, and not just the globally renowned native of the Okwawu/Kwahu "Mountains," and from the magnificent hilly township of Obo, to be exact, the ethnic or subethnic polity with which he had been widely associated ever since any adult Ghanaian citizen could remember, is partly what I mean when I say that with his traumatic and epochal passing, Daasebre Nana Kwame Ampadu, I, has brought the sort of Highlife music for which he and the luminary likes of Messrs. Jerry Hansen, of Ramblers' International fame, and C K Appiah Mann, of the globally renowned Carousel 7 Band, to full circle. "Full Circle," in our present context, means that towards the end of his life and musical career, for that matter, the putative King of Highlife had also arrived at the sobering and inescapable recognition and conclusion that, ultimately, in the words of the late Prof. Kofi Nyidevu Awoonor (formerly George Awoonor-Williams), but not necessarily in the sort of ethnocentric and meanspirited manner in which the late neo-oral Anlo-Ewe poet had used the term, Nana Kwame Ampadu, I, was first and foremost a Birem-Source-Drinking Akyemkwaa before all the other undoubtedly significant ethnic, cultural and political labels with which he had been widely and publicly associated throughout his 76-year lifespan.
Indeed, in making his Akan subethnic affiliation and/or identity known to Mr. Kofi Adoma and, by logical extension, the rest of the global music community, Daasebre Nana Kwame Ampadu had very objectively noted that while, indeed, his birth mother had been a bona fide native of Akyem-Kukurantumi, his birth father had on the other hand, been of bona fide Asante descent. In other words, the giant protagonist of our present subject of conversation was quite astute enough to have also recognized, literally, that it takes two to dance the Spanish dance of The Tango, although his own Akan philosophy of birth and identity had long stipulated that it was only one's maternal descent or identity that ultimately mattered the most or far more than all else. Maybe this familial and cultural conundrum is what we call the politically conciliatory or unifying strand of thread that all Ghanaians ought to be talking about in the wake of the seismic and epochal passing of Ghana's unarguably greatest "Storytelling-Highlife" Maestro. Especially in view of the rapid and expeditious movement of all Continental Africans towards our organic unification, in Diopian terms, as one great people with a common destiny.
In short, needlessly and gratuitously slamming yours truly, as at least some two grossly misguided critics recently did, for simply and merely highlighting the most obvious and that which has been routinely taken for granted for quite a considerably while now, constitutes the inexcusable height of insufferable arrogance. By all means, let us all start a serious and productive conversation on the functionally or practically imperative need for a Paradigm Shift vis-à-vis our forensically undeniable common postcolonial and pan-African ethnicity and multicultural identity, a conversation that has been doggedly pursued for quite a long while by Ghana's and Africa's most versatile and globally renowned literary artist, to wit, the Takoradi-born and Popenguine-, Senegal, resident Prof. Ayi Kwei Armah, in such classic novels as "Two Thousand Seasons" (1973); "The Healers" (1979), and "Osiris Rising" (1995).
*Visit my blog at: KwameOkoampaAhoofeJr
By Kwame Okoampa-Ahoofe, Jr., PhD
English Department, SUNY-Nassau
Garden City, New York
Sept. 30, 2021
E-mail: [email protected]