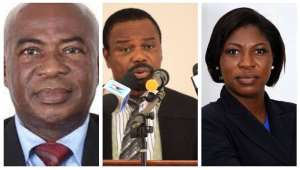 The Economic Fighters League has described the report of the three-member ministerial committee that probed disturbances at Ejura in the Ashanti Region as "bogus."
It noted that the Committee overstepped its boundaries by passing judgment on the incident with many discrepancies.
The National Spokesperson of the group, Nii Ayi Opare said it was inappropriate for the committee to interfere in the work of the Criminal Investigations Department (CID) by drawing its own conclusions on developments on that fateful day in its report.
"We do not mince our words when we say it is a bogus document in that, we find many discrepancies in the document. The committee overstepped its mandate by passing judgment or trying to get into the work of the CID, which has not been completed," he said on Eyewitness News.
Apart from indicating that it did not think Kaaka was killed as a result of his activism but a family feud, the committee also recommended compensation for the family of persons killed during the unrest and others injured.
However, Mr. Opare said this recommendation was uncalled-for, given that money cannot serve as compensation for lives lost.
"You find one of the recommendations by the committee saying they should give compensation to some of the victims of the shoot-out from Ejura. Respectfully, you do not substitute human lives with money.""You do not seek to give monies to families for lives lost. That is an insult. What these families are looking for is closure, and you can only receive closure when justice is served. That is quite insensitive and insulting."