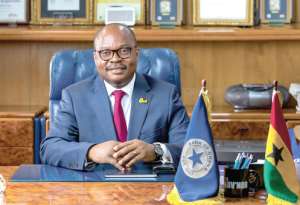 Bank of Ghana Governor Ernest Kwamina Yedu Addison
The Bank of Ghana (BoG) has maintained the policy rate at 13.5 percent.
The Committee cites inflationary pressures and the adverse impact of covid-19 on the economy as reasons for maintaining it the third time consecutively.
The decision was contained in a statement issued after the 102nd press briefing of the Monetary Policy Committee (MPC) and the Fifth in the year.
The MPC met last week to deliberate on recent global and domestic macroeconomic conditions, and to assess risks to the inflation and growth outlook.
Although inflation has risen sharply over the last two readings, driven mainly by sustained food price increases, BoG says it want its policy rate to remain pegged at 13.5 percent.
"Given these considerations, and the fairly balanced risks to inflation and growth in the outlook, the Committee decided to keep the policy rate at 13.5 percent," part of a press release from the Bank of Ghana has said.
At the meeting, the Committee was of the view that growth continues to recover from the impact of the pandemic.
It agreed that high frequency economic indicators point to continued recovery in economic activity, even though below pre-pandemic levels.
According to the committee, although consumer confidence picked up, weakening business sentiments, stemming from supply disruptions, is adversely impacting input costs, driving down short-term company prospects.