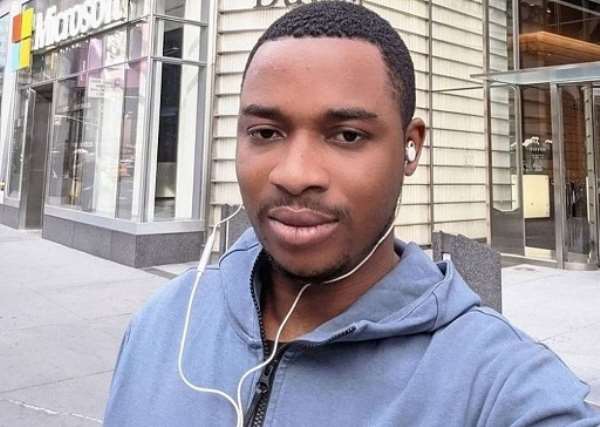 Twene Jonas
There is a video circulating on the internet about two individuals that names are not worthy to be mentioned, claiming they went seeking Twene Jonas from his employers, only to be told the young man has been sacked from his workplace and even a pastor has offered him a shelter in his place.
Many Ghanaians either lacked the knowledge to understand the predicament of the people because developments in the country don't matter to them.
Tribalism, nepotism, and political mismanagement have ruined our country beyond remedy but this has never been an issue of concern to many Ghanaians because they believe in tribalism than development.
Twene Jonas is one of the few Ghanaians lucky to travel out of the country to a foreign country to realize how bad, wicked, and incompetent Ghanaian politicians are. From there, he started speaking against Ghanaian politicians and chiefs destroying our country.
Instead of intelligent people to give him the support he needs for Ghana to be a better country, the young man has rather become a target to hate from an empire of deceitful enemies.
The Ghanaians claiming Jonas hasn't any respect for the politicians, I want to ask them, do the politicians respect themselves? Only about 5% percent of Ghanaian politicians respect themselves, the rest are criminals.
Who will give respect to corrupt politicians, judges, and chiefs destroying our environments for their selfish gains?
It is only the aimless tribalistic bigots and political thieves who will applaud Akufo Addo for such suicidal leadership.
Before becoming the president, Akufo Addo and Bawumia told the frustrated Ghanaians that Mahama is corrupt and things will be better when in power.
Now the intelligent Ghanaians have realized that whereas they claim John Mahama put a heavy yoke upon them, Akufo Addo came to make their yoke heavier. Whereby they claim the NDC is chastising them with whips, the NPP is chastising them with scorpions.
No intelligent Ghanaian can tell me that Ghana is better today under Akufo Addo after previous leaders.
I know what suffering is because at 19, when still at Secondary School, I lost my father, therefore, I converted his car to commercial transport, to drive a taxi to support my mother and pay my school fees.
Like Twene Jonas, when I came to Europe three decades ago, I realized how wicked Ghanaian politicians are. Many of them, including Akufo Addo, has no feelings, actually, they are not human beings because they have no integrity, compassion, and empathy.
The none intelligent Ghanaians are now hunting for Jonas to crucify him for insulting politicians and chiefs but I need to ask those people looking for Jonas, do many Ghanaian politicians and chiefs in the country respect themselves?
After working so hard in Europe, I took a loan of 10,000 Euros, to purchase land and invested into a small project but I became a victim to a chief who has been selling one plot to multiple buyers from Europe.
He did that because he knew Ghana is a lawless country, therefore, he will not go to jail. Yes, many chiefs, judges, and politicians commit crimes in Ghana with impunity, yet the same judges put a hungry man that steals food behind bars for five years.
Ghanaians don't see this injustice in the country to make things better to encourage the intelligent ones in the Diaspora to come home and invest; instead, they are now after the head of Jonas.
How can a country with many resources be in such a terrible state? And they want us to give an applaud to this nepotist president that has destroyed Ghana beyond remedy.
I have a piece of strong advice for those after Twene Jonas, if they are too weak or scared to speak against Akufo Addo and his over 110 incompetent ministers, they should keep their mouths shut.