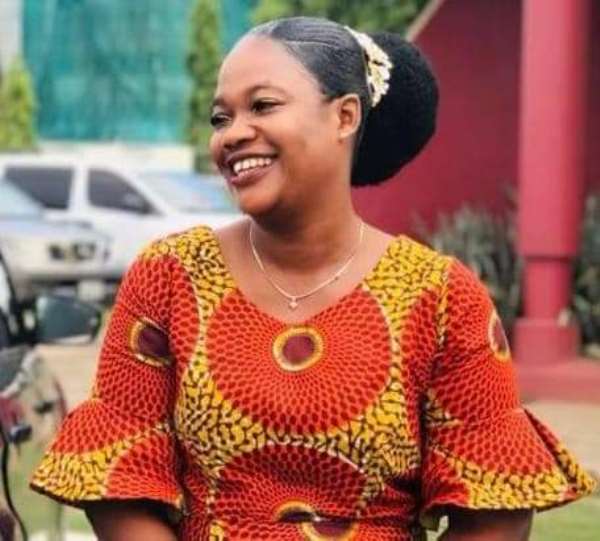 Hannah Asamoah
The DCE nominee for Agona East, Madam Hannah Asamoah has expressed her profound gratitude to His Excellency Nana Addo Dankwa Akufo-Addo for reposing the confidence in her in his second term as DCE for Agona East in the Central Region.
She has also lauded National, Regional and Constituency Executives of the ruling New Patriotic Party (NPP) for welcoming her nomination.
According to the DCE nominee, she would continue to be grateful for the nomination and would play active role in breaking the 8 agenda.
In an interview with newsmen at her residence at Agona Asafo, Madam Hannah Asamoah was full of praises to the NPP hierarchy adding that she was going to work assiduously towards the development of the district and Ghana at large.
"Am overwhelmed by series of congratulatory messages from Assembly Members, Nananom, opinion leaders as well as those who contested with me for the position. They have shown love and commitment to work with me.
"The Assembly Member want to confirm me without delay. This gives me assurance that they are going to work hand in hand with me to achieve the needed results.
"My Constituency Executives led by Chairman Desmond Sam Essandoh always comes to affirm their unflinching support since my nomination. I know there is much more work to be done but with togetherness, we are going to turn things around.
"We are going to break the Eight and recapture the Agona East Parliamentary Seat for NPP, God willing because I have the backing of Nananom and the good people in the district.
"Am also happy that this is the first time a native of Agona Asafo is going to be the District Chief Executive (DCE), hinder to the previous ones were either from Agona Duakwa, Nsaba or Kwanyarko.
"Interestingly, am the first female to be DCE in history and it gives me encouragement not to disappoint my people," she intimated.
Madam Hannah Asamoah however called for unity and hard work to facilitate infrastructure development needed to improve the lives of the people.
She promises to be a listening DCE for all and sundry.
In a related development, the Chiefs and people in the Agona East District say they wholeheartedly welcome the nomination of Madam Hannah Asamoah as DCE to spearhead development.
"We thank His Excellency Nana Addo Dankwa Akufo Addo for nominating our ever Hardworking Daughter to spearhead development in Agona East District.
"It is worthy to note that Madam Hannah Asamoah will be the first female to be District Chief Executive for Agona East if she gets confirmation from the Assembly Members.
"We are highly hopeful that she would be approved to facilitate infrastructure development. Our Assembly Members have indicated their readiness and are in a hurry to confirm her as DCE," the chiefs stated.
Interacting with this reporter at separate locations, they expressed confidence in the DCE nominee adding that being a former NPP Constituency Youth Organizer gives her insight into what was ahead of her as District Chief Executive.
Mr Theodore Kwame Nkrumah, a native of Agona Asafo could not hide his joy over the nomination of Madam Hannah Asamoah.
"We the youth in Agona Asafo will continue to thank His Excellency Nana Addo Dankwa Akufo Addo led NPP Government for nominating our workaholic and role model, Madam Hannah Asamoah as DCE for Agona East and pledge to work with her in every endeavour.
"I have been admiring her since my childhood and aspiring to be like her. She is my role model even though am not a female and there are many more who also see her as their role model," he stated.
Agona East Constituency Chairman of the NPP, Mr. Desmond Sam Essandoh said the entire Constituency Executives were going to support her administration fully to succeed and more importantly recapture the Parliamentary seat for the NPP.
"Crusade to break the Eight include capturing the Agona East Parliamentary Seat for NPP. We have been winning Presidential Elections since 2016 now is the right time to win the Parliamentary seat hands down.
"The DCE nominee is currently our Constituency Youth Organizer so she is one of us and Grassroot person who knows what is needed for the Youth. Am humbled by her nomination and most grateful to His Excellency Nana Addo Dankwa Akufo Addo led NPP Government," he emphasised.